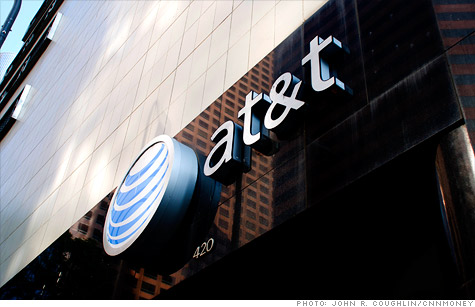 NEW YORK (CNNMoney) -- The mobile data our smartphones love to suck up is once again going up in price.
AT&T on Wednesday hiked rates on its smartphone and tablet data plans. The new rates will go into effect on Sunday, but only new customers will be affected. Those under contract will keep their current rates. AT&T said that existing customers will not be required to switch to the new rates, even if they upgrade their phones.
The wireless giant raised the cost of its lowest-tier data package to $20 per month, up from $15 -- a 33% price hike. AT&T (T, Fortune 500) offered a carrot alongside the stick: It increased the amount of data in that plan to 300 megabytes per month, up from 200 MB.
In the low-tier plan, the extra megabytes will give users access to about an hour more of streaming video, or 300 more posts to social media sites.
AT&T's higher-tier plan was also hiked to $30 a month, up from $25 -- a 20% increase. Those users will now get 3 gigabytes of data per month. Under the old plan, they only got 2 GB of data.
For tablets like Apple's (AAPL, Fortune 500) iPad, customers can choose between a $15 per month plan for 250 MB, a $30 a month plan for 3 GB or a $50 a month plan for 5 GB. (See correction below).
The announcement comes in advance of Apple's launch of the iPad 3, which analysts widely expect to go on sale in the spring.
AT&T said it will notify customers as they approach their data limits. It will charge a $20 overage fee for an extra 300 MB for the low-tier plans, and $10 per extra GB on the higher-tiered plans.
Some analysts predict that a significant number customers will be angry enough about the new rates that they'll leave AT&T for a competitor.
"We think the timing of these changes places AT&T at risk of significantly increasing churn, before AT&T has significant 4G coverage to match Verizon," said Kevin Smithen, analyst at Macquarie Capital, in a note to investors Thursday morning.
AT&T said it raised rates as customers' data usage continues to grow by an astounding 40% per year.
"Our new plans are driven by this increasing demand in a highly competitive environment," David Christopher, AT&T Mobility's chief marketing officer, said in a prepared statement.
Christopher called AT&T's new plans a "great value." Compared to its chief rival, it certainly looks that way. Verizon only offers 2 GB for the same $30 a month and does not have a low-tier offering for smartphones.
But it's clear that smartphone customers' data needs are exploding. That means that one way or another, most will eventually pay more for their monthly service.
Last June, when AT&T first introduced tiered pricing and ended its unlimited data option, the company said that just 2% of its users were going over the 2 GB per month threshold.
Is that still true? Probably not. AT&T declined to comment on what percentage of its customers are currently using more than 2 GB per month.
As mobile data usage increases and carriers run out of spectrum to cram data into, they are raising rates and limiting usage on their networks.
Verizon (VZ, Fortune 500) followed AT&T in July by ending its unlimited offering, and T-Mobile similarly cancelled its unlimited data plan in April. Sprint (S, Fortune 500) remains the lone national carrier that provides unlimited data for its customers.
But all of them have raised prices, ended perks, or stiffened penalties within the last year. Sprint, for instance, raised its early termination fee in December. Verizon cancelled its New Every Two bonus discounts a year ago, and T-Mobile began throttling customers' speeds when they exceeded their data limits.
Macquarie's Smithen predicted that Verizon and Sprint will eventually raise their rates as well, but until then, "the net impact will not be positive" for Ma Bell.
Correction:An earlier version of this story incorrectly stated that AT&T had eliminated the $15 for 250 MB tablet plan. AT&T will continue to offer that plan for tablet customers.