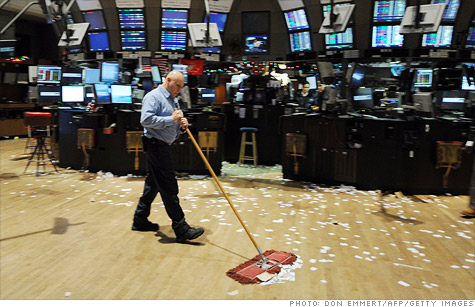 Trading volume at a 5-year low is sparking worry on Wall St.
NEW YORK (CNNMoney) -- It's been eerily quiet on stock trading desks around Wall Street and across the United States. In fact, it's been the slowest and lowest volume start to the year since 2007.
During the first 10 trading days of 2012, roughly 6.8 billion shares a day changed hands in the United States, down from 8 billion in 2011 and 8.3 billion in 2010, according to the New York Stock Exchange. In 2007, trading volumes dropped as low as 5.8 billion.
Historically, trading slows down in December, as investors close out their books for the year. But activity tends to immediately ramp up in January.
Not so this year.
"People seem to be adopting a more cautious tone and really aren't looking to do anything," said Michael James, head equity trader at Wedbush Securities. "It definitely seems that many more people are observing from the sidelines. I haven't seen any aggressive buying or shorting."
That's an understatement. Americans have been hoarding record amounts of cash since last July, according to the Federal Reserve data.
The monthly amount of cash placed in checking, savings and money market accounts, known as M2, grew at the fastest rate during the last six months of 2011 since the period following September 2001, according to the Fed.
To put that in perspective, investors put $889 billion, or eight times as much, into checking and savings accounts as they put into stocks or bonds during the first 11 months of 2011, according to TrimTabs Investment Research.
Patient stock investors weathered the 2% or more intraday swings in the Dow (INDU), S&P 500 (SPX) and Nasdaq Composite (COMP) that became de rigueur in 2011. And at the end of the day, those swings gave investors a minimal payout. The S&P 500 ended 2011 just 0.04 points away from where it started -- the smallest percentage change in history.
"A lot of people are hesitant to commit to the market given the winds that keep a lid on it strongly advancing," said Rick Bensignor, chief market strategist at Merlin Securities and a 30-year Wall Street veteran. "Just because it's a new year doesn't mean that the ills of 2011 stop when the calendar stops."
Among the reasons for fear: the idea that politicians and central bankers will continue to drive market movements, rather than fundamentals.
How European leaders choose to deal with the sovereign debt crisis will continue to affect prices of stocks around the world.
In the U.S., investors are also waiting to see whether Congress will extend the payroll tax breaks at the end of February and even more dramatically the Federal Reserve could intervene and quickly shift prices by choosing to print more money through a so-called QE3, or a third round of quantitative easing.
"What's happening here is that investors don't want to enter the market because there is a lot of uncertainty about policies so investors can't make straightforward investment decisions," said Komal Sri-Kumar, chief global strategist at TCW.
If these low volumes continue, they could exacerbate the earnings troubles at banks and make for a challenging first quarter.
The fourth-quarter trading slowdown hurt the performance of JPMorgan (JPM, Fortune 500), Goldman Sachs (GS, Fortune 500), and Citigroup (C, Fortune 500). All three banks reported double-digit drops in revenues from both stock and bond trading divisions.
"The financial sector has a special place in the overall stock market because the weakness in the financial sector immediately translates into weakness in the economy," said Sri-Kumar. "If earnings go down, banks have to worry more about keeping capital ratios up so they become more reluctant lenders."
Meanwhile, traditional stock trading is suffering from its own issues as trading desks face increasing competition from high-frequency traders and electronically traded funds.
"The equity business may well be done forever," said Chris Kotowski, a banking analyst at Oppenheimer & Co. "Electronic trading is taking all the share, so people will never earn as much money trading equities as they did in the past."
Fee generation aside, Kotowski said, investors can't stay out of the market forever.
"At some point, people will say I don't want to own Treasury bonds that yield 2%," said Kotowski. With record low interest rates, checking and savings accounts give investors back even less.
"There will be a frantic period of activity," adds Kotowski. "But you don't know whether it's three months from now or two years from now."