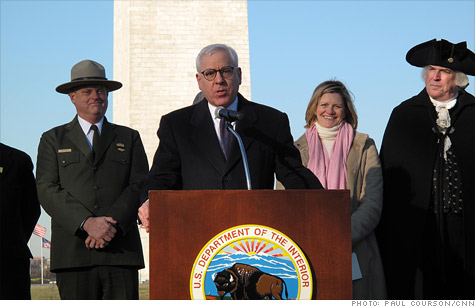 Carlyle Group co-founder David Rubenstein, with National Park Service officials and a George Washington portrayer, announcing his $7.5 million gift to restore the quake-damaged Washington Monument.
WASHINGTON (CNN) -- A philanthropist who came forward soon after an earthquake damaged the Washington Monument last August has donated $7.5 million to get the repair project off the ground.
"I want to repay a debt I have to the country," said David Rubenstein, co-founder of the investment firm The Carlyle Group.
In an announcement Thursday organized by the National Park Service, Rubenstein explained "I come from very modest circumstances, and I'm very fortunate to have achieved wealth beyond what I ever expected."
"I don't think I want to be buried with my wealth," he continued, "I'd like to have the pleasure of giving away the things that I think are good while I'm alive. The country's been wonderful to me, the city's been wonderful to me and my family." (Rubenstein and The Giving Pledge)
With Rubenstein's donation and congressional funds that were approved last month, Deputy Interior Secretary David Hayes said "we now have the funds necessary to repair this damage."
Hayes said the work should begin late this summer or early fall, and should take about a year.
The 555-foot-tall monument, the tallest structure in the nation's capital, has been closed since Aug. 23, when a 5.8-magnitude quake struck the mid-Atlantic region near Richmond, Va.
Experts continue trying to figure out the best way to address damage found both inside and along the exterior of the monument, including whether an outside scaffold will be needed. Last fall, structural engineers documenting the impact of the earthquake used a system of ropes and slings to scale all four faces of the structure from the top to the bottom.
Rubenstein said his parents brought him to the monument as a child, and Thursday he recalled walking the steps from the top to the bottom during his visit when he was eight or nine years old.
"In those days, it was a long walk then, and when I walked down recently, a week or so ago, it seemed longer when you're 62 years old," he said. "It's fortunate they didn't have me walk up."
Nearly four years ago, Rubenstein donated a $20 million copy of the Magna Carta to the National Archives, explaining that it was his way of giving back to the country that has been so good to him.
If there is inspiration from his latest philanthropy, Rubenstein told reporters, "I hope what would happen is that other people who have the means that I have will make similar gifts to our country to help repay obligations they might have to this country."