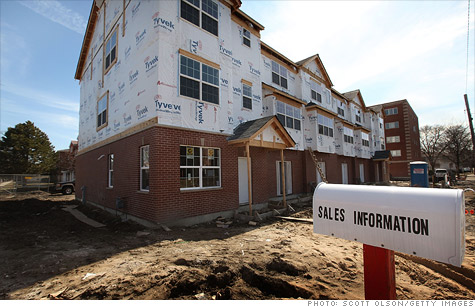 NEW YORK (CNNMoney) -- New home construction slowed slightly in December after a strong November showing, but was still much more active than a year earlier.
The Census Bureau reported that housing starts fell to 657,000 on an annual basis, down just 4.1% compared with a strong November. Building permits, which are less affected by weather than starts, came in at a 679,000 annual rate, about the same as a month earlier.
The results lagged industry expectations. A consensus of industry experts from Briefing.com had forecast starts of 673,000 and permits of 680,000.
But the results were considerably better than a year earlier, with permits up 7.8% and starts spiking 24.9%.
"I think it's a decent report," said David Crowe, chief economist for the National Association of Home Builders. "Single family starts were up 4.4% and permits were up 1.8% [compared with a month earlier]. Multi-family, [which fell] adjusted from an unusually high November."
The strong finish to 2011 enabled the industry to surpass 2010 totals in both starts and permits. Builders started 606,900 housing units in 2011, 3.4% more than in 2010. Housing permits came in at 611,900, 1.2% higher than a year earlier.
Only 583,900 homes were actually completed during the year, however, a drop of more than 10% compared with the 651,700 units completed in 2010.
Development might be stronger except for difficulties from tight lending, according to Crowe. "Builders are unable to get financing to acquire properties and develop housing," he said.
There is, however, another limiting factor that will dampen home building for many more months, according to Mike Larson, a housing industry analyst for Weiss Research.
"Builders know they're competing with foreclosures, which are being parceled out to the housing market very slowly by the lenders," he said. "That's why we won't see a robust recovery anytime soon."
The trend is in the right direction though, with economic indicators such as initial jobless claims, which are at a four-year low, and consumer confidence, which jumped in both November and December, pointing in the right direction.
"We expect a better 2012, based on an economy that will continue to improve," Crowe said.