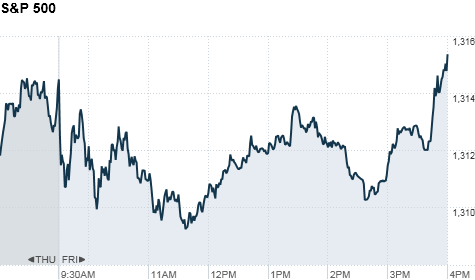 Click chart for more markets data.
NEW YORK (CNNMoney) -- U.S. investors were unwilling to place any big bets Friday, as key Greek debt talks remain unresolved.
Despite that, all three indexes still closed out the week more than 2% higher on robust economic data and strong earnings.
It's been an auspicious start to 2012, as all three indexes have inked three straight weeks of gains.
The Dow Jones industrial average (INDU) closed the week up 2.4%, added 97 points, or 0.7% Friday. The S&P 500 (SPX) added 2% for the week, but hovered around the break even line Friday. The Nasdaq (COMP) gained 2.8% for the week, also closing near neutral.
The 2012 rally has left some investors wondering whether it's sustainable. "People have to be cognizant that the more expensive the market is, the harder it is to move the needle," said Uri Landesman, president of the hedge fund Platinum Partners.
Investors continue to fear repercussions from the European debt crisis, particularly the prospect that Greece may end up defaulting in a disorderly fashion. A deal on restructuring Greek debt remained elusive on Thursday, but talks continue Friday.
The deal is a key condition for Greece to receive additional bailout funds from the European Union and International Monetary Fund. Without additional financial support, Greece may not be able to make a €14 billion payment it owes on bonds that comes due March 20.
Officials from the IMF, EU and European Central bank, known as the troika, are also in Athens reviewing the nation's finances.
Investors are still weighing quarterly results from some of the nation's biggest tech firms that reported after the bell Thursday. Microsoft (MSFT, Fortune 500), Intel (INTC, Fortune 500) and IBM (IBM, Fortune 500) posted solid fourth-quarter earnings, but Google badly missed Wall Street forecasts.
"Google was the biggest disappointment, but I would argue that that's just a temporary phenomenon," said Chip Cobb, senior vice president at Bryn Mawr Trust Asset Management.
Google (GOOG, Fortune 500) shares plunged more than 8% Friday, while IBM and Microsoft both gained more than 4%. Intel shares closed nearly 2% higher.
U.S. stocks advanced Thursday, for a third straight session, thanks to solid gains from financial stocks. Shares of both Bank of America (BAC, Fortune 500) and Morgan Stanley (MS, Fortune 500) gained after the firms released their quarterly results.
World markets: European stocks closed slightly down. Britain's FTSE 100 (UKX) ticked down 0.2%, while the DAX (DAX) in Germany slipped 0.2% and France's CAC 40 (CAC40) fell 0.2%.
Asian markets ended higher. The Shanghai Composite (SHCOMP) climbed 1%, the Hang Seng (HSI) in Hong Kong added 0.8% and Japan's Nikkei (N225) rose 1.5%.

Companies: U.S. markets have more corporate earnings to digest, after Dow component General Electric (GE, Fortune 500) reported its quarterly results Friday morning. The company's earnings just beat forecasts, but GE's shares fell 0.2%, as its revenue fell short of expectations.
Shares of Apple (AAPL, Fortune 500) fell 1.75%, a day after the tech giant's market cap briefly topped $400 billion.
Shares of Carnival Corp. (CCL), which owns the grounded Italian cruise liner Costa Concordia, remain under pressure. Carnival's stock has shed 7% since the Jan. 13 accident. Shares were down another 1% Friday.
Economy: Investors received an auspicious report on existing-home sales from the National Association of Realtors Friday morning. Sales rose by 5% in December, faster than an expected 2.9%, according to a survey of analysts by Briefing.com.
Homes sold at an annual rate of 4.6 million, up from a rate of 4.42 million in November. The realtor group cited early signs of "sustained recovery."
Currencies and commodities: The dollar rose against the euro, the British pound and the Japanese yen.
Oil for February delivery slipped $2.28 to $98.11 a barrel. Oil for March delivery, which becomes the active contract at the close of trade Friday, lost $2.21 to $99.33.
Gold futures for February delivery added $9.50 to $1,664.00 an ounce.
Bonds: The price on the benchmark 10-year U.S. Treasury dropped, pushing the yield up to 2.03%.