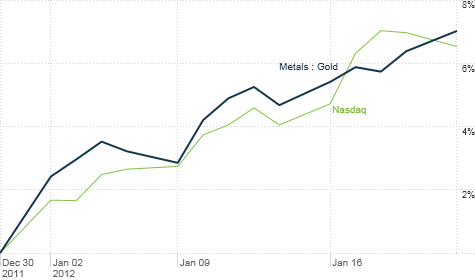 Gold prices have risen in tandem with the stock market in 2012. Experts said they think the trend can continue.
NEW YORK (CNNMoney) -- The market is off to a scintillating start in 2012 and many of last year's worst performers are leading the charge.
Europe debt worries seem to be dissipating a bit, helping the the euro bounce back. And investors are dumping stodgy Treasury bonds, pushing yields higher in the process. Risk is back.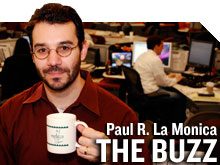 So why is gold, the quintessential safe haven/fear trade, up about 7% in 2012 too? That's about the same as the Nasdaq.
You can probably thank the world's central bankers for helping fuel a gold rush. The funny thing about gold is that it often rallies when investors are terrified about deflation. But it also moves higher when investors start anticipating inflation.
And nothing cries out inflation like printing dollars (and euros) to try and halt a global crisis.
The Federal Reserve has been buying bonds for awhile to keep long-term interest rates low. Its latest means of doing so, a program dubbed Operation Twist that swaps short-term bonds for longer-term Treasuries, is slated to end in June.
And now the European Central Bank is also doing its part. Many investors credit the ECB's decision last December to allow banks to take out 3-year loans at a rate of just 1% for boosting confidence in Europe.
Demand for this program has been strong, and it seems that some banks have been using the proceeds to buy up the sovereign debt of distressed nations like Italy and Spain.
Now you might be wondering why I've mentioned inflation so much. So-called core prices for consumer goods were up just 2.2% in the U.S. over the past 12 months. Inflation isn't an issue in Europe either.
But the market is focusing on the future. And as long as the Fed and ECB are in crisis management mode, it's likely that all the money that's sloshing around will eventually fuel inflation. That is bullish for gold, which is a classic way to hedge inflation since it is not a paper currency. It has tangible value.
"The only condition that matters for gold is if inflation expectations are rising. Since the first week of this year, there has been a dramatic repricing of inflation expectations," said Michael Gayed, chief investment strategist with Pension Partners LLC, an investment advisory in New York.
Gayed said that there's no reason why the recent trend of gold and stocks rallying in tandem can't continue as long as central banks keep taking serious steps to tackle the debt problems.
"Between the ECB's blank check and the Fed's Operation Twist, investors feel that the worst of the crisis may be averted. So gold can do well just like stocks," he said.
But the run-up in gold may not just be about the Fed and the ECB. Kevin Mahn, president and chief investment officer of Hennion & Walsh Asset Management, an investment advisory firm in Parsippany, N.J., said that recent data from China -- which hints that country's economy may not crash this year -- is helping too.
"A large part of the run in gold is because of the market's perception that China will have a soft landing. That should be bullish for many commodities," Mahn said, pointing out that silver and copper have outperformed gold so far this year.
Of course, one of the reasons that China is expected to have a soft landing is that it too is starting to contribute to what I've called The Great Global Easing. China's central bank lowered its reserve requirement ratio for lenders in November. Many experts think an interest rate cut could come soon.
So as long as central banks around the world are fearful of letting Europe's woes spill over to their shores and continue to act accordingly, gold could head higher.
"Gold is being driven by monetary policy. Japan is easing. China is starting to loosen," said Bob Gelfond, CEO of MQS Asset Management, a global macro hedge fund based in New York. "Almost every major country across the world is easing. We are going to be in this environment for a while."
But how much higher can gold really go? The metal's upside may be limited. It is currently trading around $1,675 an ounce, about 13% below its all-time (but not inflation-adjusted) high of near $1,925 an ounce last September.
Oliver Pursche, co-manager of the GMG Defensive Beta Fund (MPDAX) in Suffern, N.Y., said that economic data has to get better around the world (including China) before inflation expectations can lead to actual inflation.
"Gold should continue to rise slowly. But the story from inflation hawks for the past two years is that all the money printing will create inflation. The reality is that overall consumer demand is soft," Pursche said.
"Over time, there will be an inflation impact. But gold won't make new highs until real inflationary pressures take hold," he added.
Best of StockTwits and name that tune shout-out!: Research in Motion (RIMM) has a new CEO to replace the two that investors hated. Unfortunately for the BlackBerry maker, it seems that investors don't like the new one either.
mohannadaama: New $RIMM CEO is two old Co-CEOs put into one. Same product but under a different label. Market is not buying into it.
AronPinson: If CEOs step down b/c strategy isn't working... Why bring in a new person implementing the same strategy? $RIMM
I think investors really wanted new blood. That might have been better. Then again, an outsider didn't work so well for Yahoo (YHOO, Fortune 500) with Carol Bartz (jury still out on Scott Thompson obviously) or Leo Apotheker with HP (HPQ, Fortune 500), right?.
jfahmy: The only way the new $RIMM CEO can help his company is if he started selling iPhones $AAPL
Or Android devices.
ericjackson: Has a CEO ever had a more embarrassing first day on the job? From +5% to -7% based on 30 mins of chat. $RIMM
That is terrible. Market was happy about a new CEO and then disappointed when he started talking on the conference call. To quote one of my favorite Billy Joel tunes ("Summer, Highland Falls") it's either sadness or euphoria with RIM.
And speaking of favorite songs, I challenged readers to another silly name that band contest today.
I noticed that PetMed Express (PETS), a pharmacy for cats and dogs, was surging on strong earnings. So I asked followers to ID the band behind this song lyric, which includes the company's ticker symbol. "We'll make great $PETS. We'll make great $PETS!"
James Holt is the winner for pointing out that the band was Porno for Pyros. He added that he liked their song "Tahitian Moon" better than "Pets." I agree. Then again, I also like the band that Perry Farrell is more famous for -- Jane's Addiction -- better. "Been Caught Stealing" could be Wall Street's theme song.
The opinions expressed in this commentary are solely those of Paul R. La Monica. Other than Time Warner, the parent of CNNMoney, and Abbott Laboratories, La Monica does not own positions in any individual stocks.