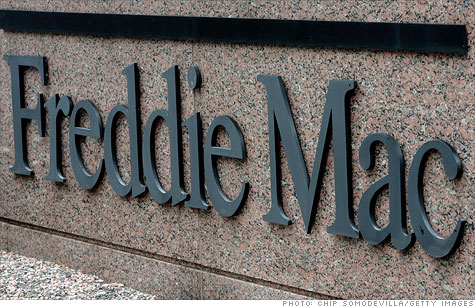 Freddie Mac has become the hot button issue of the Florida Republican primary.
NEW YORK (CNNMoney) -- The one thing Mitt Romney and Newt Gingrich seem to agree on about Freddie Mac is that it played a significant role in the housing bubble -- and the subsequent financial meltdown that followed when it burst.
But many experts in the field question that view, saying Freddie Mac and fellow mortgage finance company Fannie Mae were relatively small players in the rapid growth of subprime and other risky home loans while the housing bubble inflated -- and were relatively late to the game at that.
"An easy way to sum it all up is if Fannie and Freddie never existed we still would have had the housing bubble, the subprime crisis and the collapse of the housing market," said Guy Cecala, CEO of Inside Mortgage Finance, which publishes trade publications following the different part of the mortgage market.
"That being said, as the two single largest players in financing of mortgages, it's hard to say they (Fannie and Freddie) had no involvement because, of course, they did," he added.
Freddie has become a hot button topic in the next Republican primary in Florida. For one thing, there's still economic pain in the state due to the problems in housing and foreclosure.
In addition, the Romney campaign sees a chance to tie Gingrich to that pain, since Gingrich is reported to have received $1.7 million from Freddie Mac for consulting work. The latest Romney commercial starts off saying "While Florida families lost everything during the housing crisis, Newt Gingrich cashed in." (Paycuts coming for new bosses at Fannie/Freddie)
Romney supporters campaigning in Florida hammered Gingrich about his ties to Freddie on Monday.
"One of the most devastating blows to the Florida economy, of course, has been the housing market, and one of the principal culprits in the demise of the housing market was the role of Congress and ... Freddie Mac and Fannie Mae," said former Minnesota Gov. Tim Pawlenty, a Romney supporter, in a call with reporters.
Gingrich has responded he did no lobbying for Freddie Mac, and said he will try to have his Freddie Mac contract released to the public in the next week to prove that. He claims that he told Freddie its business model was broken, and told Republican members of Congress not to approve the bailout of Fannie and Freddie that have so far received $183.8 billion in taxpayer funds to cover losses.
Gingrich has not denied the $1.7 million amount that his firm reportedly received from Freddie, which was first reported by Bloomberg News. A person familiar with his work for the company told CNNMoney that the figure is "generally accurate."
He has heaped almost as much scorn as Romney on Freddie and Fannie. The former House speaker says they "played a critical role in the financial crisis," blaming Democrats in Congress for using them to impose unworkable affordable housing guarantees that distorted the housing market and created the crisis.
Freddie spokeswoman Sharon McHale said the firm couldn't comment on the charges being made against it in the political campaign, given that it is operating under government conservatorship.
But experts said the firms' involvement in riskier home loans had little to do with their Congressional mandates to make housing affordable for the poor. Instead, they had everything to do with their attempt to compete with Wall Street firms that combined subprime mortgages into securities and sold them to investors.
"There's really no doubt that the worst of the bubble is due to the Wall Street guys," said Dean Baker, co-director of the Center for Economic and Policy Research, a liberal think tank. "They (Fannie and Freddie) got in because they were profit-making enterprises and they were losing market share."
Cecala agrees with Baker that Freddie and Fannie's participation in subprime mortgages was driven not by Congress but by competitive pressures from banks such as Citigroup (C, Fortune 500), IndyMac, Goldman Sachs (GS, Fortune 500) and Countrywide Financial, which was bought by Bank of America (BAC, Fortune 500).
"That's a joke, that Fannie and Freddie's affordable housing goals somehow created this," he said. "It was plain and simple greed."