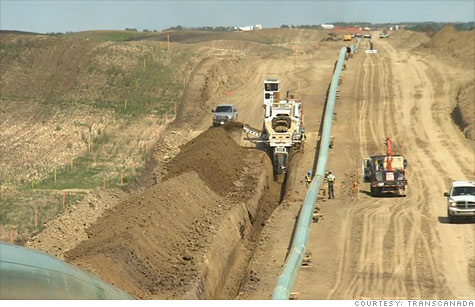 The pipeline's supporters say if Keystone doesn't get built oil that was supposed to go through it will go to China instead. They are only half right.
NEW YORK (CNNMoney) -- When President Obama rejected the Keystone oil sands pipeline expansion last week, critics immediately sounded the China alarm.
"If we don't build this pipeline ... that oil is going to get shipped out to the Pacific Ocean and will be sold to the Chinese," said House Speaker John Boehner, echoing statements from pipeline supporters on both ides of the isle.
Yet experts say the situation is more complicated than that.
In an effort to diversify its export base and sell to growing markets, Canada has been looking to build a pipeline to its West Coast long before the Keystone controversy even began.
And actually laying a pipeline to the West Coast will be just as hard as building one through the United States.
"It's not a question of either or," said Sarah Ladislaw, an energy analyst at the Center for Strategic and International Studies. "That [talk] is just politically convenient."
The Northern Gateway: While Keystone's builder TransCanada (TRP) has been dominating the headlines in the United States, its competitor Enbridge (ENB) has been getting lots of ink in Canada with plans to build a pipeline of its own.
Known as Northern Gateway, the pipeline is a $5 billion project to carry crude from the oil sands region in Alberta to Kitimat, a deepwater port on Canada's West Coast about halfway between Seattle and the Alaska border. From there it would likely be loaded onto tankers and sent to Asia.
The desire to build a pipeline to the West Coast was there long before Keystone ran into trouble this summer.
Production from Canada's oil sands currently stands at about 1.6 million barrels per day. But that's slated to grow to between 3 to 5 million barrels per day over the next couple of decades.
Canada wants to sell this oil to growing markets in Asia, not simply rely on the Untied States, where oil demand is stagnant or declining.
With last week's rejection of Keystone, which was slated to carry oil from the oil sands to refineries and deepwater ports on the U.S. Gulf Coast, analysts say there's even more pressure to get Gateway built.
"There's no question that momentum for market diversification is building," said Peter Tertzakian, chief energy economist at ARC Financial, a Calgary-based private equity firm. "You'll see a faster track for the approval of this thing."
The desire to fast track Gateway may indeed be there, but environmentalists say it won't happen.
Canada has a stringent process for environmental permitting, and thousands of people have already signed up to protest the Gateway project, said Susan Casey-Lefkowitz, director of international programs at the Natural Resources Defense Council.
"Plus, in order to reach the Pacific the pipeline has to cross over tribal lands controlled by the First Nation people.
"First Nation people all along the proposed path are pretty united in their opposition," said Casey-Lefkowitz. "I don't see Northern Gateway being built."
Room for both? TransCanada, Keystone's builder, indicated there's plenty of oil to be sent both to the United States and China.
The company's head of pipeline operations, Alex Pourbaix, told CNNMoney the firm has no intentions of redirecting its resources away from a U.S. pipeline and towards one to the Pacific.
"We do expect that as production volumes grow there will be opportunities for Canadian producers to move their oil offshore to other markets than the U.S.," said Pourbaix. "But under almost any scenario, we believe [Keystone] can be in service far before any project to the West Coast."
Despite last week's rejection, TransCanada said they will resubmit their application, as the Obama administration invited them to do, and hope to have Keystone up and running by 2014.
Gateway, meanwhile, isn't slated to be operational until 2017.
Both the Center for Strategic and International Studies' Ladislaw and ARC's Tertzakian think that growing worldwide demand for oil means eventually both pipelines, and probably several others, will be built, even though oil from the oil sands carries a heavier environmental footprint than traditional crude.
Companies that produce in the oil sands, including Exxon Mobil (XOM, Fortune 500), Royal Dutch Shell (RDSA) and BP (BP), have been making efforts to minimize the environmental impact, but problems remain.
Due to that heavy footprint, which includes lifecycle greenhouse gas emissions some 5% to 30% greater than traditional crude oil, NRDC's Casey-Lefkowitz is working to ensure neither pipeline gets built.
"Where are we going as North America, and as a planet, in terms of our energy use," she said. "If we keep on going after these dirtier and less easy to access forms of fossil fuel, we will not be able to fight climate change."