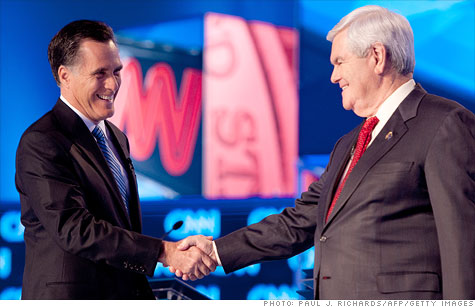 Not so friendly anymore.
NEW YORK (CNNMoney) -- Newt Gingrich is the latest Republican candidate to challenge the conventional wisdom that Mitt Romney is destined to capture his party's nomination.
Gingrich just delivered a wallop to Romney in the South Carolina primary, and the gap between the candidates has narrowed so severely in recent days that the two are virtually tied nationwide, according to Gallup's latest national tracking poll.
So how do these two stack up on the economy?
Taxes
Gingrich wants to add to the current tax code by putting an optional 15% flat tax on income in place. Taxpayers would be able to choose whether to pay the flat tax, or file under the existing tax code.
The former house speaker would also eliminate the estate and capital gains taxes.
Gingrich wants to reduce the corporate tax rate from 35% to 12.5% -- a move that would take it from one of the highest in the industrialized world to one of the lowest.
Romney, meanwhile, would initially leave marginal tax rates on income at their current levels, while eliminating taxes on interest, dividends and capital gains for taxpayers who make less than $200,000.
The Romney plan also calls for the elimination of the estate tax, and a reduction in the tax rate paid by corporations from 35% to 25%. (Is Romney a tax cutter?)
According to the Tax Policy Center, which has been analyzing each candidate's plan, the proposals from both Romney and Gingrich would blow a hole in the federal budget and dramatically reduce federal revenue.
But Gingrich's plan is much more aggressive.
Assuming the Bush tax cuts stay in place, Gingrich's plan would result in $850 billion less in revenue in 2015, while Romney's added deficit would come in at a comparably light $180 billion.
Spending
Romney would cap spending at 20% of GDP, immediately reduce non-security discretionary accounts by 5% and pursue a balanced budget amendment.
The former Massachusetts governor wants to cut funding for relatively small programs like Amtrak, the National Endowment for the Arts, foreign aid, the Corporation for Public Broadcasting and Title X family planning.
He does detail a few bigger ticket items, like a reduction in the size of the federal workforce and a modification to Medicaid that would turn it into a block grant program.
But those program cuts aren't enough to meet his top-line spending reductions, especially since Romney won't consider defense cuts.
If Gingrich gets his way, the size of the federal government will shrink, and the agencies left over will do far less regulating.
Gingrich wants to replace the Environmental Protection Agency -- which his website calls a "job-killing regulatory engine of higher energy prices" with an "Environmental Solutions Agency."
He would replace the National Labor Relations Board and reform the Food and Drug Administration.
Regulation
Gingrich is in favor of "very serious deregulation" and wants to repeal the Wall Street reform law that he has referred to as a "regulatory Tower of Babel."
Sarbanes-Oxley, which laid down new regulations on public companies after major accounting scandals hit Enron, Tyco and others, would be wiped off the books.
And Gingrich would remove bureaucratic and legal obstacles that prevent offshore drilling and oil shale development.
Both candidates would like to repeal the new health care law, and Romney has criticized Dodd-Frank as a "massive overreach of the federal government into private markets."
While he doesn't advocate a full repeal, Romney would modify Sarbanes-Oxley to lower cost burdens on small and medium-sized businesses.
Romney also advocates for a "regulatory cap" that would result in a cost-neutral regulatory system.
Entitlement reform
Gingrich favors the creation of optional private Social Security accounts for younger workers, while Romney would like to gradually raise the retirement age for younger workers.
Gingrich also wants to give states block grants to fund Medicaid -- something Romney also favors.
As for Medicare, Gingrich has voiced support for a plan that would keep traditional Medicare as an option and allow private insurance to engage in regulated competition with the government-run health plan.
Romney has proposed a premium support system and allowing beneficiaries to enroll in private sector plans, while the elderly could choose to stay with traditional Medicare.
Remainders
Gingrich has advocated for the use of "Lean Six Sigma," a management strategy that has a cult-like following in the business community but is virtually unknown in government circles.
Gingrich frequently cites estimates that project savings of $5 trillion over 10 years -- an astronomical figure -- if Lean Six Sigma techniques are taught within the government.
Gingrich has also called for the United States to think about returning to the gold standard. And Gingrich labeled the Congressional Budget Office a "reactionary socialist institution" in November.
Gingrich has also spoken out sharply against the Fed, saying it should focus on keeping prices in check, while dropping the dual mandate of job growth and fighting inflation.
For his part, Romney would like to replace Fed Chairman Ben Bernanke.
In recent days Romney's message has been clouded as the candidate has been forced to answer questions about his tenure at Bain Capital, a private equity firm.
Voters will get a peak at the very wealthy candidate's tax returns on Tuesday, when his campaign will release one full year of returns and an estimate for 2011.