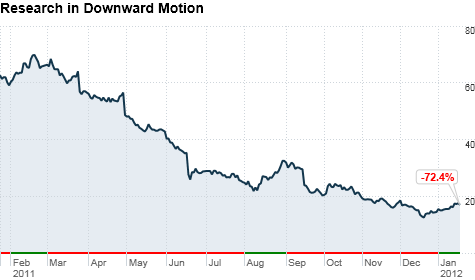 NEW YORK (CNNMoney) -- BlackBerry smartphone maker Research in Motion, which has fallen far from its once-dominant position in the industry, is shaking up its executive ranks.
The company named Thorsten Heins -- a RIM insider -- as its new chief executive officer, succeeding co-CEOs Mike Lazaridis and Jim Balsillie.
Heins was one of RIM's two chief operating officers before his promotion to CEO. He replaces two much-maligned CEOs, who faced growing shareholder angst and analysts' skepticism about the long-serving pair's ability to turn the company around.
The CEOs also gave up their co-chairmen titles, but both will remain on the board.
Heins said his primary focus will be changing the company's marketing strategy in the United States.
Many office workers are now bringing their own devices into work and using them as their corporate smartphones. That means consumer favorites like Apple's (AAPL, Fortune 500) iPhone and Google's (GOOG, Fortune 500) Android devices are threatening to push BlackBerry out of its long-held corporate stronghold.
"We need to be more market-driven, more consumer-oriented," Heins said Monday on a conference call with analysts. "That's where a lot of our growth should come from. We need to engage more with our consumer base."
Heins said he will be hiring a new chief marketing officer in the near future.
He also said that RIM's execution must improve. The company has faced delay after delay with its new product rollouts.
After months-long delay on its current BlackBerry 7 operating system, the company announced last month that its next-generation platform, BlackBerry OS 10 -- the cornerstone of RIM's turnaround plans -- won't be ready until late 2012. The company says it is waiting on the development of a special chipset for its new devices.
Yet for all the changes he said he wants to make, Heins also said that he plans to continue implementing RIM's current business strategy.
That strategy hasn't paid off in several years. Analysts say RIM's lack of foresight led the company to lose more than half its U.S. market share since the debut of the iPhone.
Heins faces sharp challenges in turning around investors' sentiment about the company: RIM's (RIMM) stock plunged 72% last year. The Ontario-based company's third-quarter results, announced in December, projected a miserable outlook for the current quarter.
"We find this change in management slightly confusing," said Stuart Jeffrey, analyst at Nomura. "We see no concrete reason why this will prove a greater success under Mr. Heins than the previous co-CEOs."
RIM shares dropped 7% in early trading on Monday.
Analysts say they were hoping for an outsider to take the reins in put new ideas in place. The fact that both former CEOs also remain on the board also signaled to some that the old guard's presence in the company will still be intensely felt.
"While we believe the market is likely to view the departure of Jim Balsillie and Mike Lazaridis favorably, we believe the lack of a high profile CEO -- or at least chairman -- from outside the company or a turnaround specialist will be disappointing to some, including us," said Kevin Smithen, analyst at Macquarie Capital.
Putting an insider in place also lessens the likelihood that RIM will sell itself to another company, which some investors had been hoping for. The company has been the subject of takeover rumors by companies such as Microsoft (MSFT, Fortune 500), Nokia (NOK) and Amazon.com (AMZN, Fortune 500).
Others have called on RIM to license its software to rivals. Heins said that he would "entertain those discussions," but said it's not his primary focus.
The management shakeup wasn't particularly surprising, with so many investors calling for the former CEOs' heads. But Lazaridis and Balsillie were so adamant that they were the right people to see RIM through its transition to BlackBerry 10 that the timing seems a bit odd.
That led some analysts to believe something might be awry at the company. The leadership shakeup may mean that more bad news -- like delays, layoffs, or a particularly bad quarter -- is going to hit soon. Nomura's Jeffrey said a new CEO may get more of a free pass delivering bad news than the former CEOs would have.
It also could mean that Lazaridis and Balsillie simply wanted to stop being investors' focus, since their continued presence at the helm was serving as a distraction. Last month, both apologized to investors, acknowledging that they had "let down" shareholders.