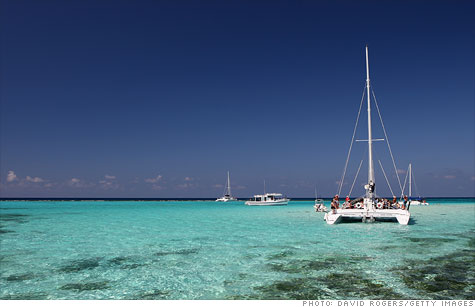 Like a lot of rich people, Mitt Romney has investments based in the Cayman Islands. The extent to which he enjoys a tax break on that money is unclear.
NEW YORK (CNNMoney) -- Okay, we get it. Mitt Romney is uber-rich.
And like a lot of wealthy investors, he's got money offshore, particularly the Cayman Islands.
Other than the beaches, what's so great about the Caymans?
For U.S. firms that structure their investment funds there, a big advantage is a looser regulatory structure. That makes it easier for private equity firms like Bain Capital, which Romney founded, to set up their funds in a way that can attract a broad swath of U.S. and non-U.S. investors.
For the investors -- wealthy individuals like Romney or institutional investors like university endowments -- the automatic assumption is that putting money in the Caymans is all about escaping taxes. That can be true, but it's not always the case.
Does Romney get a tax break by investing in Cayman-based funds? If his blind trusts -- over which he has no say -- are simply investing the money on his behalf as a U.S. investor, then chances are he's not getting a tax advantage, tax experts told CNNMoney. Or if he is, it's not significant.
His trustee may have chosen the Cayman investments for their potentially high returns.
In any case, Romney is required to report his share of the funds' profits as income on his tax returns, which he did on his 2010 and 2011 returns. For example, a blind trust for Ann Romney reported $78,888 in income in 2010 from its investment in Bain Capital Partner VIII-E, which is based in the Caymans.
Romney's investments in Cayman funds "are taxed exactly as if he were invested in U.S. funds," said Brad Malt, a lawyer who serves as trustee of the Romneys' blind trusts.
But what about his IRA? Romney's IRA account is not based in the Caymans, his campaign said. It's possible, though, that some of his IRA money is invested in Cayman-based funds.
If it is, he potentially could get a tax advantage, tax experts said, but everything depends on the structure of what he's investing in.
Here's the issue: His IRA would most likely be considered a tax-exempt entity just like a corporate pension fund. Under the U.S. tax code, tax-exempt entities are not allowed to invest in active businesses or assets that are debt-financed. If they do they're subject to the so-called unrelated business income tax, or UBIT, which can run as high as 35%.
A lot of Romney's money is invested in Bain Capital. If Bain's Cayman-based funds are set up as partnerships and those partnerships borrow money to buy assets, then any IRA money he invests in those partnerships would be subject to UBIT, according to international tax expert David Lifson, a partner at accounting advisory firm Crowe Horwath.
If, however, his IRA money is invested in the same assets through a so-called blocker corporation, it would not be subject to UBIT because corporations are treated differently under the tax code.
Setting up blocker corporations in the Caymans is both legal and frequently used strategy, several tax experts said.
But since it's not clear how his IRA is invested, it's impossible to tell whether he is benefiting from such a strategy.
Malt, Romney's trustee, said Tuesday that the IRA is not paying taxes currently and that like anyone else with an IRA, Romney will have to pay taxes on any withdrawals he makes when the time comes.
The campaign has not yet responded to CNNMoney's follow-up questions about Romney's IRA.