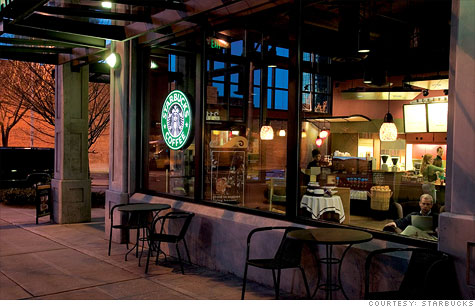 Support from Starbucks follows that of firms including Nike and Microsoft.
NEW YORK (CNNMoney) -- Starbucks has come out in support of a bill that would make Washington the seventh state to legalize gay marriage.

The company joins fellow Pacific Northwest-based firms including Microsoft (MSFT, Fortune 500) and Nike (NKE, Fortune 500) in backing the bill, which also has support from Gov. Christine Gregoire and is close to passage in the state's House and Senate. Gregoire has previously called corporate support for the bill "courageous and appreciated."

Starbucks (SBUX, Fortune 500) said in a statement Tuesday that it was "proud to join other leading Northwest employers in support of Washington state legislation recognizing marriage equality for same-sex couples."

"This important legislation is aligned with Starbucks' business practices and upholds our belief in the equal treatment of partners," the statement read.
Last year, Starbucks was among a group of 70 businesses and organizations that filed a brief in federal court opposing the Defense of Marriage Act, which restricts the definition of marriage to that between a man and a woman.

--CNN Wire Staff contributed reporting.