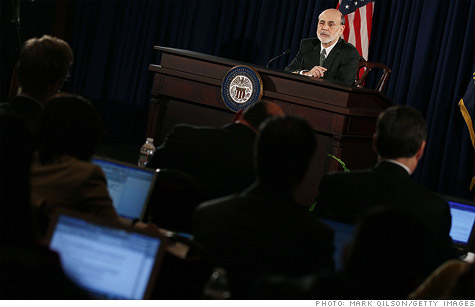 NEW YORK (CNNMoney) -- The economy is improving, the Federal Reserve said Wednesday, but not enough to warrant higher interest rates for at least two-and-a-half more years.

The central bank indicated that it expects to keep the federal funds rate near historic lows until late 2014 -- an extension from the Fed's original pledge to keep rates low through mid 2013.
"[T]he economy has been expanding moderately, notwithstanding some slowing in global growth," the Fed said in a statement Wednesday. Meanwhile, the program known as Operation Twist remains in place.
The Fed's main tool for stimulating the economy, the federal funds rate is the interest rate banks charge one another for overnight loans. Keeping it at historic lows as the Fed has done since 2008, is meant to stimulate spending by lowering interest rates on everything from mortgages to car and student loans.
Immediately, the Fed's announcement sent U.S. bond yields falling. The 10-year Treasury yield fell to 1.94%. That's down from a 2.06% yield just a day earlier.
As markets reacted strongly to the news, economists cautioned that the Fed's 2014 forecast is not a concrete promise. Should economic growth pick up more quickly, the Fed could raise interest rates sooner.
"It's not a vow or a commitment," said Michael Gregory, senior economist with BMO Capital Markets. "If the outlook changes on the unemployment or inflation, the Fed retains the right to change its mind."
The statement follows a two-day policymaking meeting, at which the central bank shuffled its voting members as it does at the beginning of every year.
The rotation brings four new regional Fed presidents into voting roles: Jeffrey Lacker of Richmond, Sandra Pianalto of Cleveland, Dennis Lockhart of Atlanta and John Williams of San Francisco.
All but Lacker are considered either moderates or inflation doves, meaning they're more likely to favor stimulative policies that promote economic growth, even at the risk of higher inflation.
Lacker was the sole Fed member to dissent against the policy decision Wednesday. He would have preferred the central bank not to release an actual timeframe for "exceptionally low" rates.
Besides the roster change, the Fed's first meeting of the year is also noteworthy because it marks the first time the central bank will release forecasts, estimating where the federal funds rate will stand over the next few years.
While the Fed already alluded to those forecasts in its statement, the projections from each of its members are scheduled to be released later Wednesday, along with projections on economic growth, inflation and unemployment.