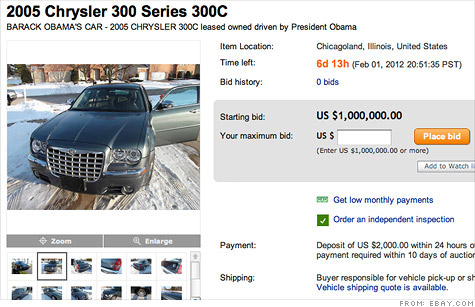 The current owners of a Chrysler 300C once leased by President Barack Obama -- then Senator Obama -- is asking $1 million for the car.
NEW YORK (CNNMoney) -- A Chrysler 300C once leased by President Barack Obama is for sale on eBay with the eye-popping "opening bid" of $1 million.
The opening bid, which is dictated by the seller, means that bidding for the car must start at that price.
The woman who posted the car on eBay Motors, Lisa Czibor, said she has received some criticism for the high asking price but that the current owner of the car fully expects to get that amount.
Czibor said in a phone interview with CNNMoney that she is listing the car for someone else but looks forward to getting a commission on the sale. She describes herself as a "life-long Ronald Reagan old-school conservative."
"It's all about the money for me," she said
She's unlikely to get anything like a million dollars, said Craig Jackson, president of the Barrett-Jackson auto auction company.
"Maybe this car would be worth $50,000 to $100,000."
The hearse which carried the body of John F. Kennedy following his 1963 assassination in Dallas recently sold at a Barrett-Jackson auction for $160,000.
Jackson's company has sold several presidential cars and none have ever brought anything approaching that kind of money, he said.
It might help if the car, itself, were innately rare or valuable, but it's not. The car is a stock late-model Chrysler very similar to many thousands of others that are still on the road. With no presidential connection, it would be worth about $20,000 as a used car.
Also, history has yet to render a verdict on Obama's presidency.
A presidential parade limousine used by Franklin Roosevelt, a Cadillac V-16 convertible, was recently auctioned off at an RM Auctions sale in Arizona for $270,000.
The eBay listing provides a few examples of other cars that have sold for surprising amounts, though. A Peugeot once owned by Iranian President Mahmoud Ahmadinejad sold for £1.5 million pounds -- roughly $2.4 million.
She also mentions a 1999 Volkswagen Golf once owned by Cardinal Joseph Ratzinger -- now known as Pope Benedict XVI -- which sold for $244,000.
Czibor provided CNNMoney with a scanned copy of an Illinois Certificate of Title showing Barack Obama as the lessee. The car currently has 20,800 miles on it.
She would not say how the car came into the current owner's possession.
A spokesperson for the White House did not immediately comment on the eBay listing.
Obama was a U.S. Senator representing Illinois during the time he owned the car. After driving the Chrysler sedan for over 19,000 miles Obama traded it for a 2007 Ford Escape Hybrid in the summer of 2007 as he was beginning his presidential campaign.
The Chrysler gets about 18 miles per gallon in combined city and highway driving, according to EPA estimates, while the Escape Hybrid gets about 30.