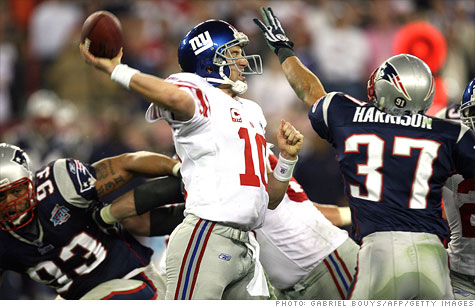 A play from the 2008 Super Bowl. The Giants-Patriots rematch should keep demand strong for tickets to this year's game.
NEW YORK (CNNMoney) -- Haven't made your plans yet to head to Indianapolis for the Super Bowl? Hope your credit card has some room on it -- tickets are going to cost you thousands of dollars over face value.
Resale site StubHub is reporting a median ticket price of $2,800. And Ticket Exchange reports a median price of $3,623. Both prices are off slightly from a year ago.
The cheapest seat sold so far on Ticket Exchange, the NFL's official resale site run by IAC/InterActiveCorp. (IACI) unit Ticketmaster, is $2,614 in Section 422 in the upper corner, while the highest price paid was $17,048 on the 40-yard line.
The face value of Super Bowl tickets run from $800 to $1,200, but they are never made available at that price to the average fan. Instead, they are reserved for season ticket holders, league sponsors and other favored groups.
But the growth of the secondary ticket market means tickets to the Feb. 5 game between the New York Giants and New England Patriots are only a few clicks away -- at a hefty price, of course.
"This is an intriguing match-up, with two large market teams and a rematch of four years ago," said Joellen Ferrer, spokesman for StubHub, the ticket resale site run by eBay (EBAY, Fortune 500).
The location of this year's game is probably keeping prices in check this year, according to experts.
Indianapolis has far fewer hotel rooms than does the Dallas-Fort Worth area, the site of last year's game. Of course, the weather is colder too, though the domed stadium will keep fans comfortable during the game.
Still just like Comcast's (CMCSA, Fortune 500) NBC is counting on good ratings for the game, the New York-Boston match-up should keep prices high compared to other possible match ups.
If the teams had both lost last Sunday, the resulting San Francisco-Baltimore match up would likely have fetched ticket prices $500 to $700 lower, according to Mike Janes, general manager of event ticketing for FanSnap, a site that tracks listings on numerous resale sites.
The listed prices are higher than the prices of completed sales reported by StubHub and Ticket Exchange. FanSnap, reports a median asking price of $4,575, which ranges from a "low" of $2,125 for an upper deck seat to $605,898 for an entire luxury suite.
Those prices are likely to drop through at least the weekend as sellers cut prices in an effort to move the tickets before demand disappears.
"If I was offering advice, I'd say try to find your hotel room as soon as possible, but hold off on buying the tickets," Janes said.
Both Ticket Exchange and StubHub say it's likely to be a Giants crowd at the stadium, and New York and New Jersey buyers outnumbering fans from New England states by a wide margin.
Indiana buyers are also well represented, even if the Indianapolis Colts had the worst record in the NFL. That might also make the crowd more hostile to the Patriots, given the longtime rivalry between those two teams.