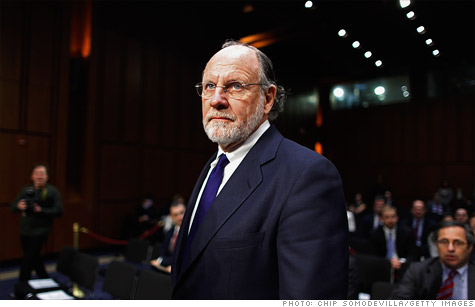 Former MF Global CEO Jon Corzine appears on Capitol Hill in December.
NEW YORK (CNNMoney) -- It's been three months since MF Global became the eighth-largest bankruptcy in U.S. history. Did anyone see this coming?

Well, a few people had some idea, and a congressional subcommittee heard from them on Capitol Hill Thursday.
Michael Roseman, MF Global's former chief risk officer, warned early of the dangers in the firm's massive bets on troubled European debt. He clashed with ex-CEO Jon Corzine over the strategy before being replaced early last year by Michael Stockman, who also appeared at the hearing.
"I discussed my concerns about the positions and the risk scenarios with Mr. Corzine and others," Roseman told the subcommittee. "However, the risk scenarios I presented were challenged as being implausible."

Under questioning, Roseman said he believed his views on risk "certainly played a factor" in the firm's decision to dismiss him.
MF Global (MFGLQ) filed for bankruptcy on Halloween following a frantic week in which executives including Corzine, the former CEO and an ex-governor and senator from New Jersey, attempted to offload assets and sell the business.
The firm had come under intense pressure in the previous days after its $6.3 billion investment in European debt came to public notice. Trading partners called for increased margin payments and clients took their business elsewhere, leaving the firm scrambling for cash to meet its obligations.
"It almost looks like that they took Mr. Roseman out and replaced Mr. Roseman with a 'yes man,'" Rep. Stephen Fincher said.
Stockman responded that he had initially signed off on the European bets, but later raised concerns and recommended bringing the firm's risk down in July of last year.

Corzine, for his part, has acknowledged pushing the aggressive European strategy after arriving at MF Global in 2010, anxious to take it to the ranks of Wall Street's elite.

The investments themselves didn't actually lose money, as Corzine noted in Congressional testimony in December. None of the bonds MF Global held came from countries that have defaulted and all were set to mature before 2013. But Europe's precarious finances and the massive leverage MF Global took on spooked investors and ultimately helped doom the firm.

While an examination of MF Global's risk management may have been the main focus of Thursday's hearing, for the firm's former customers, the bigger question is what happened to their money.

Customer funds at futures brokers like MF Global are supposed to be protected even in the event of a bankruptcy. In MF Global's case, however, staffers were unable to account for roughly $1.2 billion in customer money that is now suspected to have been unlawfully appropriated for the firm's own purposes.
Ratings agencies under fire: Others facing scrutiny Thursday were rating agencies Moody's and Standard & Poor's, which waited until just days before MF Global's bankruptcy to flag its European exposure even though the firm had disclosed it back in May.

By the time the rating agencies acted, the bets were already sparking concern among MF Global's trading partners. The downgrades then sharply acclerated the firm's downward spiral.

"[T]he abruptness of the downgrades and the suddenness of MF Global's collapse raise questions about why the credit rating agencies did not consider MF Global's exposure to European sovereign debt until late October," the House committee said in a memo last week.

Also appearing Thursday was James Gellert, head of the smaller ratings agency Rapid Ratings International, which maintained a grim outlook on MF Global long before its larger counterparts did. Gellert noted in his testimony that MF Global's business model had been deteriorating for several years prior to its failure, and that the new risks in the European strategy only made its situation more precarious.

"Had MF Global offered a lower risk foundation, MF Global might have been able to withstand the failure of the new business strategy," Gellert said. "As it was, Mr. Corzine inherited an unhealthy company and made it worse by some high-stakes gambles."