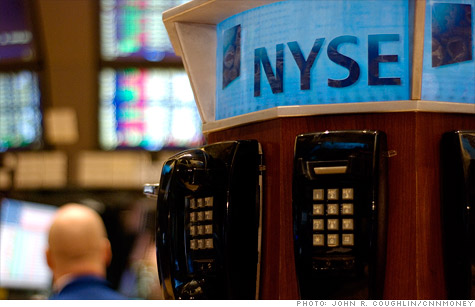 European Commission blocks proposed merger of exchange operators Deutsche Boerse and NYSE Euronext.
NEW YORK (CNNMoney) -- The parent company of the New York Stock Exchange said Wednesday that it plans to end its proposed merger with the parent of the Frankfurt exchange, after European officials blocked the deal.
NYSE Euronext (NYX, Fortune 500) said it will instead repurchase shares, as a way to bolster value to investors once the agreement with Deutsche Boerse is officially terminated.
"We proposed significant and tangible remedies designed to address the European Commission's concerns with the transaction," NYSE Euronext chairman Jan-Michiel Hessels said in a statement.
But, he added, "we would not agree to any concessions that would undermine or compromise the industrial and economic logic of the proposed combination."
The European Commission said it prohibited the merger on the basis that it would stifled competition by creating a "quasi-monopoly in the area of European financial derivatives traded globally on exchanges."
The EC said the two exchanges already control more than 90% of global trade in European derivatives.
Hessels said he "strongly" disagrees with the EC's decision, noting that it is "based on a fundamentally different understanding of the derivatives market."
NYSE Euronext said that it planned to resume its $550 million share repurchase program after the release of its fourth quarter and 2011 results on Feb. 10.
But the $64,000 question is, where does the NYSE go from here?
"They had a lot to gain from this merger," said Peter Lenardos, director of European diversified financials for RBC Capital Markets in London. A tie-up with Deutsche Boerse would have given NYSE Euronext a more diverse revenue stream, stronger balance sheet, stronger growth rate and higher margins.
This is the third big global exchange deal to go bust over the past year, and it's unlikely an other suitor will emerger. The Australian and Singapore exchanges scrapped their merger plans last April, and the Toronto and London Stock Exchanges called it quits in June.
Last year, Nasdaq and the IntercontinentalExchange withdrew their hostile bid for NYSE Euronext after the Justice Department said it would block a three-way merger.
ICE declined to comment and Nasdaq didn't immediately return a request for comment.
With a big M&A deal unlikely, NYSE Euronext should consider a smaller acqusition to diversify its business, said Lenardos.
"I'm not saying the business is broken, but the headwinds are very, very real," he said. "On a competitive basis globally, there are others that are better positioned."