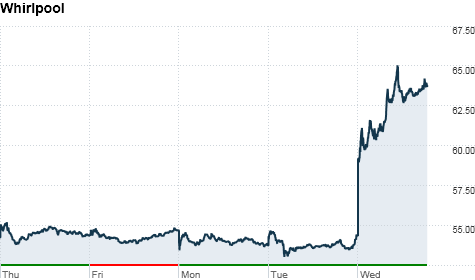 Click chart for more on Whirlpool.
NEW YORK (CNNMoney) -- Shares of Whirlpool spiked more than 17% Wednesday after the appliance maker issued a strong outlook for 2012, despite a soft fourth quarter.
The company is forecasting earnings per share of $7.30 to $8 -- well above analysts' expectations of $5.85, according to Thomson Reuters estimates.
Whirlpool (WHR, Fortune 500) executives said demand has started to improve and it hopes to build on that momentum. "We do expect 2012 to be a strong year," said CEO Jeff Fettig said during an earnings call Wednesday.
The company instituted a number of cost cutting measures in 2011, including cutting 5,000 jobs, and closing a refrigerator factory in Arkansas. And it expects to continue cost cutting in 2012, although executives didn't offer any details during Wednesday's call.
For today, at least, investors were firmly focused on the earnings outlook and analysts say Whirlpool's price increases and cost cutting efforts will be the biggest drivers in 2012. The stock was the biggest gainer in the S&P 500 Wednesday.
Before breaking out the champagne, it's worth noting that Whirlpool has been here before and the company faces some serious headwinds, not the least being its roster of competitors. That includes ElectroluxAB (ELUXY), which reports earnings Thursday, LG, Samsung and General Electric (GE, Fortune 500).
"It's a pretty ambitious outlook," said Longbow Research analyst David MacGregor. "I think this excitement is going to be short lived."
MacGregor said a big chunk of the volume in Whirlpool Wednesday was likely short covering -- reversing bets that the stock will fall. "There were a lot of people short going into the [conference] call," he said.
Still, Whirlpool ended 2011 with a solid balance sheet: $1.1 billion of cash is nothing to sneeze at.
"While we view 2012 guidance as a potential positive for the stock, we believe further detail is needed," said JPMorgan analyst Michael Rehaut in a research note.
Whirlpool's biggest customers include Sears Holdings Corp. (SHLD, Fortune 500). Lowe's (LOW, Fortune 500), Home Depot (HD, Fortune 500) and Best Buy (BBY, Fortune 500).