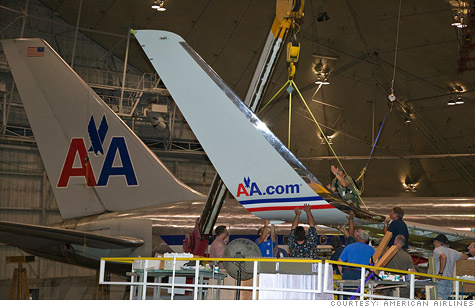 American Airlines is planning to outsource much of its overhaul maintenance of aircraft and cut almost half of its maintenance staff.
NEW YORK (CNNMoney) -- American Airlines told its unions Wednesday it plans to cut 13,000 jobs from the staff of 88,000 at the nation's No. 3 airline.
The cuts will fall most heavily on the airline's maintenance operations, which will lose 4,600 jobs. More than 4,000 additional ground worker jobs will be eliminated, as will 2,300 flight attendant jobs.
Management will be reduced by 1,400 employees, with the most narrow cut coming among pilots, which will only see a reduction of 400.
Thomas Horton, CEO of American Air parent AMR Corp. (AAMRQ), said in a letter to American employees, "We will end this journey with many fewer people. But we will also preserve tens of thousands of jobs that would have been lost if we had not embarked on this path."
The airline and its unions will now negotiate over the company's cost-cutting plans, but management can seek to have the bankruptcy court impose the changes if it can't win concessions at the bargaining table.
Horton wouldn't say how long the airline will wait before taking that step or when it wants the layoffs to begin.
"Given all the uncertainty out there, I think it will serve our company and our people best to get the changes made as quickly as possible," Horton said on a call with reporters at the end of the day.
But union officials showed no eagerness to agree to the company's plans.
"The negotiating team expected this to look ugly, yet it has exceeded all of our expectations," said Laura Glading, president of the Association of Professional Flight Attendants in a statement to its members, who called the proposal "despicable."
Horton said the company needs to save more than $1.25 billion annually in labor costs, and reduce costs in each work group, including management, by 20%. To try to cushion the blow of those cuts, it is offering employees a profit-sharing plan, and said it plans to continue to giving workers annual pay increases.
Some of the savings will come from the airline's proposal, also announced Wednesday, to shift its underfunded pension plans to a government agency, the Pension Benefit Guaranty Corp.
"If this liability is not eliminated, we will need to have more than $800 million each year in additional savings to service the unfunded liabilities," said the company.
But the Pension Benefit Guaranty Corp. once again said it would seek to block the airline from dumping its pensions on the agency, which is already facing a deficit of its own. The agency's estimate is that American's pensions are underfunded by $10 billion.
"Before American takes such a drastic action as killing the pension plans of 130,000 employees and retirees, it needs to show there is no better alternative," said agency director Josh Gotbaum. "Thus far, they have declined to provide even the most basic information to decide that."
If the company is successful in shifting its pensions to the agency, thousands of workers and retirees, particularly its pilots and upper management, would have their pension benefits slashed. But American said Wednesday that 90% of those covered by the plans will not have their benefits reduced.
Other savings will come from restructuring debt and leases, grounding older planes, and improving supplier contracts. Horton said the company wants to cut $2 billion a year in total cost cuts.
AMR is also is looking for $1 billion a year in improved revenue from better use of its aircraft and improved product offerings.
There have been suggestions since the bankruptcy filing that American should close hubs, break-up the carrier or merge with another airline.
"I do not believe any of these outcomes are in the best interests of American, our people, or our stakeholders," Horton wrote. "But as I have said since the start of this process, there will be many parties with input into the outcome of our restructuring."
The company is meeting with the three major unions that represent the workers at American, the Allied Pilots Association, the Association of Professional Flight Attendants and the Transport Workers union, which represents ground workers including mechanics. Between them the three unions represent about 54,000 employees at American and its feeder airline, American Eagle, which also is owned by AMR.
American announced it planned to close one of its facilities outside of Dallas that performs the major overhaul of aircraft that all airlines need to do on a regular basis, as it moves to outsource that heavy maintenance work. The announced job cuts represents more than 40% of the maintenance staff represented by the Transport Workers.
American did not say where the work will be sent, but the union said it expects the airline will use lower-cost facilities overseas. Most major airlines such as Delta Air Lines (DAL, Fortune 500), United-Continental (UAL, Fortune 500) and Southwest Airlines (LUV, Fortune 500) already outsource that work. The Transport Workers have vowed to fight the move.
AMR Corp. said at the time of its Nov. 29 bankruptcy filing that it needed to achieve a more competitive labor structure. Over the past 10 years most other major U.S. airlines have gone through bankruptcy to cut labor costs.
"Just as our competitors that went through restructuring are now earning consistent profits, we believe there is a real opportunity for American's employees to benefit when we emerge a stronger, more competitive company," said Jeff Brundage, the airline's senior vice president of human relations, in a letter to employees Wednesday.