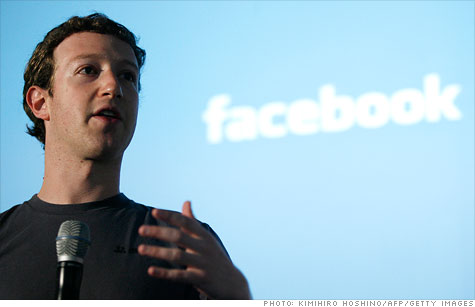 Mark Zuckerberg's letter to shareholders lays out his belief in "the hacker way."
NEW YORK (CNNMoney) -- In a letter to investors included in Facebook's IPO filing, CEO Mark Zuckerberg outlined his philosophy for running what has become a multi-billion-dollar business. At core of that philosophy: Love your hackers.
"We have cultivated a unique culture and management approach that we call the Hacker Way," Zuckerberg wrote in the filing. "There's a hacker mantra that you'll hear a lot around Facebook offices: 'Code wins arguments.'"
It's a line that captures the spirit of the company's engineering-driven culture, where all-night coding sessions and "hackathons" are popular.
"The best idea and implementation should always win -- not the person who is best at lobbying for an idea or the person who manages the most people," Zuckerberg wrote.
It's become common for tech entrepreneurs to include these kinds of missives in their IPO filings. The documents are half-warning, half-plea: 'Hey shareholders, here's the culture you're about to buy into. Please don't break it.'
Groupon's (GRPN) quirky founder Andrew Mason opened his company's filing with a note on his management views: "Life is too short to be a boring company."
In 2004, Google (GOOG, Fortune 500) co-founders Larry Page and Sergey Brin cautioned shareholders that they would manage for the long haul, not the short term, and laid out their now-famous "Don't be evil" mission.
"We aspire to make Google an institution that makes the world a better place," they wrote.
Zuckerberg struck some of the same notes in his own letter. "We don't build services to make money; we make money to build better services," he wrote.
But the founder who built Facebook's prototype from his dorm room at Harvard mainly stuck with the notion that code conquers all.
"Instead of debating for days whether a new idea is possible or what the best way to build something is, hackers would rather just prototype something and see what works," he wrote.
It's an approach that explains both Facebook's constant upgrades, and its equally routine privacy kerfuffles. Especially in its early years, Facebook tended to launch new features and then hash through all of their implications after the fact.
It's an approach that's literally built into the company's foundation.
As Zuckerberg put it: 'We have the words 'Done is better than perfect' painted on our walls to remind ourselves to always keep shipping."