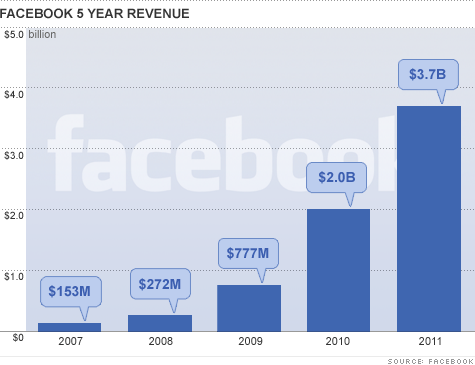 Facebook's sales -- as well as its profit -- have risen steadily over the past few years.
NEW YORK (CNNMoney) -- At long last, the Holy Grail of Internet IPOs is here. Facebook filed Wednesday to raise $5 billion in an initial public offering.
In 2011, Facebook earned $1 billion on sales of $3.7 billion. As of December 31, Facebook had 845 million monthly active users.
The company crossed the line into profitability in 2009, five years after it launched in founder Mark Zuckerberg's Harvard dorm room. Facebook earned $229 million that year on sales of $777 million, and has remained profitable ever since.
It's not yet known on which stock exchange Facebook will trade, though it said it plans to use the ticker symbol "FB."
Facebook will likely re-file its paperwork several times over the coming months. Those updates will add more details and could even restate some of the financial information detailed in Wednesday's filing.
In this initial paperwork, companies don't declare how many shares they're going to sell, or how much those shares will cost. Those details will be added in an updated filing shortly before trading begins.
Without that share price information, Facebook's valuation is still speculative.
Facebook has its own guesses, though. The company said it conducted its own valuation of its stock at the end of each quarter, and as of December 31 determined it to be worth $29.73 a share.
Revenue breakdown: Advertising accounted for 85% of Facebook's 2011 revenue, or almost $3.2 billion.
Facebook's other revenue stream is its payment system for purchases within apps and games: Facebook Credits. Facebook keeps 30% of the revenue from those payments, and passes the remaining 70% on to the app developer.
Those fees brought in $557 million for Facebook last year.
Revenue from Zynga, which makes FarmVille and other games played on Facebook, represented 12% of Facebook's total revenue in 2011.
About 44% of Facebook's revenue came from overseas last year, compared with 38% in 2010 and 33% in 2009.
As of December 31, Facebook had $3.9 billion in cash and liquid assets.
Exec compensation: Another choice tidbit: In 2011, Facebook CEO Zuckerberg raked in a $500,000 base salary. But he requested -- and will receive -- only $1 per year in salary starting January 1, 2013.
Don't feel too bad for Zuck, who remains the largest shareholder in the company he created. His total compensation in 2011 came to $1.48 million, according to Facebook's calculations.
He was one of the lowest-paid among Facebook's executive ranks. Facebook COO Sheryl Sandberg topped the list with a total package Facebook estimated at $30.9 million, almost all of it in stock.
Engineering VP Mike Schroepfer made an estimated $24.7 million -- again, mostly in stock -- while CFO David Ebersman collected an $18.7 million pay package. (For more on Ebersman, see Fortune's profile: "The man behind the Facebook IPO.")
As far as the regular rank-and-file at Facebook, the company had 3,200 full-time employees as of December 31. That was a 50% increase from the previous year, and Facebook said it "expect[s] this growth to continue for the foreseeable future."
Facebook also noted that it has bought out some small companies mainly to acquire employees, and said that it intends to continue that strategy.

How much Facebook is worth: Trading won't begin for several months, as Facebook now has to field questions from regulators and court investors for its stock sale.
Most analysts estimate Facebook's valuation will fall somewhere between $85 billion to $100 billion. But the value of Web companies can be extremely volatile.
A recent example: Zynga (ZNGA). The FarmVille maker's IPO filing reported that it valued its shares in August 2011 at $17.20 each, which gave the company a valuation of $14 billion. But when Zynga went public in December, shares sold for just $10 -- valuing the company at $7 billion.
Several other Internet companies made their public debuts in 2011, but the end of the year proved to be a turbulent time for the sector. Shares of Groupon (GRPN), Pandora (P), Zillow (Z), LinkedIn (LNKD) and Angie's List (ANGI) all suffered steep double-digit losses for November, though most clawed back at least a bit in December or January.