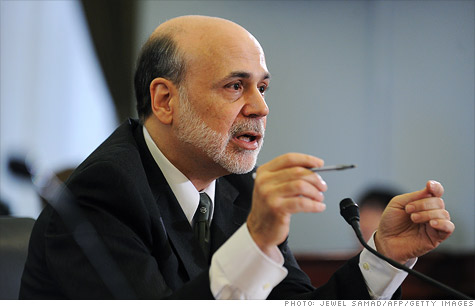 Fed Chairman Ben Bernanke told a House panel Thursday, that the Fed will 'take every available step to protect the U.S. financial system and the economy' from Europe's debt crisis.
NEW YORK (CNNMoney) -- The recovery remains "frustratingly slow" in the United States, and now Europe's debt crisis is posing additional challenges, Federal Reserve Chairman Ben Bernanke told Congress Thursday.
"Risks remain that developments in Europe or elsewhere may unfold unfavorably and could worsen economic prospects here at home," Bernanke told the House Budget Committee.
But he also assured lawmakers that the Fed is doing everything in its power to prevent an economic slowdown in the U.S.
"We are in frequent contact with European authorities, and we will continue to monitor the situation closely and take every available step to protect the U.S. financial system and the economy," Bernanke said.
Europe's debt problems started in Greece more than two years ago, and the situation there has yet to be fully resolved.
Repeating points he has made before Congress in prior appearances, Bernanke told the committee members that while cutting the national debt should be a priority over the long term, they should also take great care not to impede the current economic recovery.
"Do no harm is an important piece of advice I would offer you," Bernanke said.
Rep. Scott Garrett, a Republican from New Jersey, slammed Bernanke for giving Congress advice on how to fix the struggling housing market. The Fed is in charge of monetary policy, and Republicans have critiqued Bernanke for overstepping his bounds by giving its opinion on fiscal matters.
"I was truly taken aback when just recently, as you know, the Fed issued in an unsolicited white paper on housing policy where if you didn't advocate for, you certainly mirrored much of the positions of this administration," Garrett said.
"Well, Congressman, first the Fed has a lot of interest in housing. It's important for the economy. It's important for monetary policy," Bernanke said.
"We were trying to provide pros and cons, analysis, background. I'm sorry if you think we went too far," he added.
The House hearing comes a week after the Fed said it intends to keep interest rates low until the end of 2014, a move that signals the central bank fears the economy will not recover fully for another three years. The Fed also laid out a goal to keep inflation around 2% each year, while it also tries to bring down the unemployment rate.
Many Republicans, including Rep. Paul Ryan, oppose the move, fearing it could trigger rapid inflation later on.
"I think this policy runs the great risk of fueling asset bubbles, destabilizing prices and eventually eroding the value of the dollar," Ryan said. "The prospect of all three is adding to uncertainty and holding our economy back, in many of our judgments."
While Ryan commended Bernanke for the Fed's recent efforts to increase its transparency, he also pressed him on the inflation question.
Bernanke responded, "We are not seeking higher inflation. We do not want higher inflation and we're not tolerating higher inflation."
The Fed forecasts the unemployment rate will remain high in 2012, ending the year between 8.2% and 8.5%. It also cut its predictions for growth, forecasting U.S. gross domestic product will expand by only 2.2% to 2.7% this year.