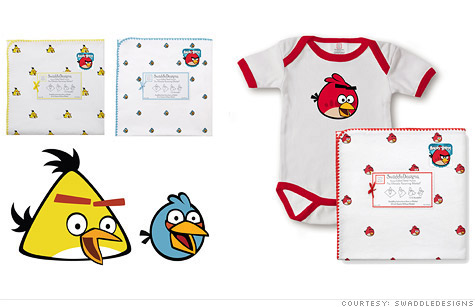 SwaddleDesigns, a Seattle-based small business, scored first-ever license to make baby products for the mega-popular Angry Birds brand.
NEW YORK (CNNMoney) -- A small Seattle-based company hit it big after snagging the first-ever license to make Angry Birds baby products.
SwaddleDesigns, a company started by husband-and-wife team Jeff and Lynette Damir, sealed the deal with Angry Birds creator Rovio Entertainment last year. The company will be rolling out a line of baby clothes bearing the familiar Angry Bird logo this month.
"The enthusiasm from retailers has been tremendous," Jeff said. "It's an honor to be working for a brand whose fan base is so large."
The Angry Birds game has been downloaded more than half a billion times since it launched in 2009. And industry experts speculate that the Angry Birds franchise, which includes T-shirts, toys and backpacks, may already be worth over $1 billion. SwaddleDesigns produces Angry Birds baby body suits, blankets, swaddle and burping clothes.
The family business, which employs just 20 people, has been making stylish, high quality baby products since 2002. Annual revenue is $5 million," but the deal could double that this year, Jeff said.
"This is a huge opportunity for us," he said. "How huge it becomes is a little hard to predict because fans of the game may not intuitively think about Angry Birds baby products."
Timing is everything. Lynette, a registered nurse, founded SwaddleDesigns after spotting a need among new parents for swaddling blankets that were less bulky and large enough to perfectly wrap newborns. From the start, Lynette wanted to make her products in the United States to ensure high quality.
Today, 70% of the company's products are made in the United States in a Seattle-based factory, and 30% in China. The company's baby products are sold in Nordstrom (JWN, Fortune 500) and in hundreds of specialty boutiques nationwide.
"We also sell on Amazon (AMZN, Fortune 500) and distribute to six other countries," said Jeff. The Damirs' 10-year-old daughter gets the credit for the Angry Birds' idea.
"We'd gotten her an iPad and she was playing Angry Birds on it," said Jeff. "That's the first time I heard about the game."
After some quick research, he discovered its raging popularity. He approached Finland-based Rovio in late 2010, introduced his company and the idea of an Angry Birds baby collection.
"They told me that my timing was great because Rovio was thinking about extending the Angry Birds brand into babies," he said.
He sent samples of SwaddleDesigns' products and a few weeks later landed the coveted deal. "SwaddleDesigns showed us some really good quality products over other candidates," said Ville Heijari, Rovio's vice president of franchise development, who gets a dozen Angry Birds ideas pitched to him daily from businesses and entrepreneurs.
"We like ideas that aren't gimmicky but are high quality and have longevity," Heijari said.
SwaddleDesigns nailed it, he said. With Angry Birds reportedly coming to Facebook later this month, Damir thinks the monster popularity of the game will only increase and boost demand for anything tied to Angry Birds.
"That would be great," he said. "But if our sales really take off, production could be a challenge even though our manufacturers tell us they can ramp up." "We'll cross those bridges when we get there," he added.