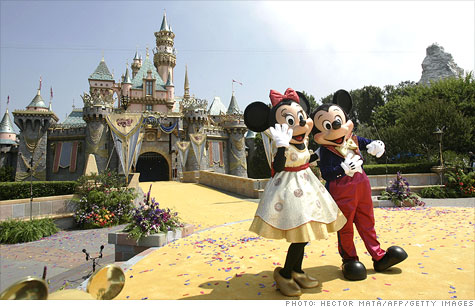 The Happiest Place on Earth - now with more facial hair!
NEW YORK (CNNMoney) -- Mickey Mouse can finally grow that goatee he's always wanted.

Until now, Disney (DIS, Fortune 500) parks and resort employees had been prohibited from growing beards and goatees. Starting Friday they may do so, so long as they're a quarter-inch or shorter.
Separately, the company has instituted a "casual Friday" dress policy for Disney staff members that don't deal with guests.

"Disney Look guidelines are periodically reviewed in relation to industry standards, as well as the unique environment of our theme parks and resorts," Disney spokeswoman Betsy Sanchez said in an email.

"While we are careful to maintain our heritage and the integrity of our brand, a recent review of our guidelines led to a decision that an update was appropriate at this time."

The lift of the beard ban follows earlier fashion reforms at the Happiest Place on Earth. In 2000 the company moved to allow mustaches, and in 2010 it decreed that women were no longer required to wear pantyhose with skirts.
There are still some fashion restrictions on Disney "cast members," as staff who deal with guests are called. Visible tattoos and body piercings are verboten, as is unnatural hair coloring.
"The Disney Look is a classic look that is clean, natural, polished and professional, and avoids 'cutting edge' trends or extreme styles," the company says on its website.