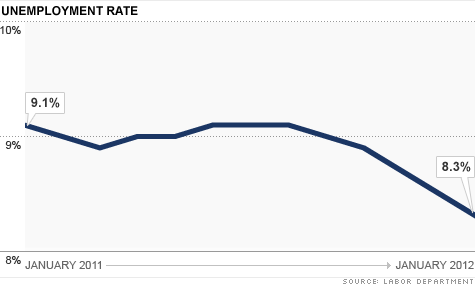 Almost 2 million more people say they've got jobs now than in August, driving the unemployment rate sharply lower during that time.
NEW  YORK (CNNMoney) -- Companies are saying the job market is getting better. Workers are saying it's already kicked into high gear.
Friday's jobs report showed a gain of 243,000 jobs. But a separate survey of households used to determine the unemployment rate shows much, much stronger job gains.
The number of people saying they were employed increased by 631,000 in January alone. That's the biggest one-month gain since just before the Great Recession started in late 2007.
And the three-month and six-month increases are similarly impressive -- 1.1 million more say they have jobs compared to October, and nearly 2 million more people say they're working since July's reading.
That is the best six-month job gain since August 2005, when the unemployment rate was a healthy 4.9%. January's unemployment rate is still a painfully high 8.3%. But the unemployment rate has fallen from 9.1% in the last six months on the strength of the increasing number of those saying they have found work.
So the spike in Americans saying they're working could be an early sign of much stronger-than-expected economic growth ahead.
Typically economists pay more attention to the jobs number produced by the survey of employers than to the households survey. But the employer survey can miss hiring by very small businesses, start-ups and self-employed workers.
Mark Zandi, chief economist at Moody's Analytics, says the household survey serves as a better sign of where the economy is heading at turning points like when it's going into recession and when it's ready to take off.
He said one reason job growth has been so disappointing since the official end of the recession in June 2009 is that there has been weaker than expected new business start-ups during that period.
He and other economists said this employment reading, and other data showing a pick-up in demand for credit by small businesses, makes them hopeful we're finally getting that long-overdue business creation.
The jump in those saying they found work "probably represents people finally feeling good enough, and credit is flowing freely enough, to start businesses," Zandi said. "That augers very, very well."