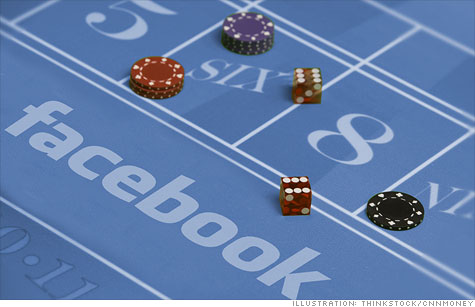 Ireland's Paddy Power and England's Ladbrokes are accepting Facebook-related bets on everything from share price to space missions.
NEW YORK (CNNMoney) -- Facebook has finally filed for an IPO, but it likely won't start trading for months. For those who can't wait to gamble on the stock market, bookies are accepting bets.
Paddy Power -- the largest Irish bookmaker with 3,300 transactions per second -- set its odds on Thursday, a day after Facebook filed its paperwork.
"Facebook is such a part of our day to day lives, so customers came to us asking about it," says Paddy Power spokesman Féilim Mac An Iomaire.
It's an unlikely 10/1 that Facebook will price its IPO at less than $25 a share. The highest odds fall in the range of $35 to $44.99 a share, while $65 and above is set at 9/2.
If hard numbers aren't your bag, Paddy Power is also taking bets on who will ring the stock exchange's opening bell on the day Facebook begins trading.
Bell-ringer odds are high, of course, on Facebook CEO Mark Zuckerberg at 1/100. Founding president Sean Parker is set at 25/1. Bono, the U2 frontman and Facebook shareholder through private equity firm Elevation Partners, is a slim 100/1.
Like most Irish and U.K. bookies, Paddy Power lets its 2.7 million customers bet on "pretty much anything they fancy," joked Mac An Iomaire. "We set bets on Charlie Sheen's next girlfriend, another on alien existence."
London-based Ladbrokes set odds on its own list of outcomes: 1/10 that Facebook's IPO will raise more money than Google's (GOOG, Fortune 500) $1.9 billion offering in 2004 is one -- though it's hard to imagine who'd best against Facebook since it has already said it plans to sell $5 billion's worth of stock.
Customers can also place bets on company value, how long Zuckerberg will remain CEO -- and even whether Facebook will launch a space mission before 2020 (100/1).
So far, Paddy Power has pulled in only €1,100 (about $1,145) in Facebook-related bets. But Mac An Iomaire expects the pace to pick up as the actual trading date becomes clear.
"This looks to be a slow burner," he says. "It won't be on the scale of the [England-based horse race] Grand National, but we'll get some financial people who might feel that they have the inside track."
In the meantime, Paddy Power may add more Facebook-related outcomes to its books.
"We were considering doing a market on the movie, whether they'll make a sequel [to 2010's The Social Network] based on the [IPO]," Mac An Iomaire says. "We decided not to...but you never know, do you?"