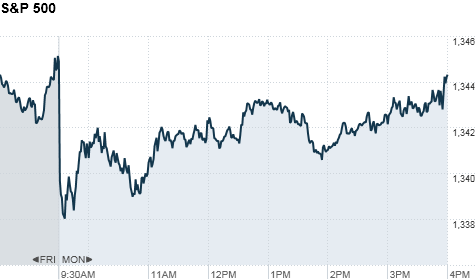 Click chart for more markets data.
NEW YORK (CNNMoney) -- U.S. stocks hovered below the breakeven line throughout the trading day Monday, as investors anxiously awaited a Greek government decision on budget cuts that are key to securing a second bailout and avoiding default.
The Dow Jones industrial average (INDU) closed the day down 17 points, or 0.1%. The S&P 500 (SPX) shed 0.6 points, or 0.04%. The Nasdaq (COMP) dropped 4 points, or 0.1%.
After failing to strike a deal over the weekend, political leaders in Greece were expected to resume talks Monday. Those discussions were pushed back until Tuesday amid apparent disagreements over additional job and salary cuts, as well as pension reforms and tougher tax enforcement.
Greece's leaders are frantically trying to reach a deal on austerity measures and financial reforms necessary for a €130 billion bailout package from the European Union, International Monetary Fund and European Central Bank.
Without the bailout money, the risk is that Greece will miss a €14.5 billion bond redemption in March. That could lead to a disorderly default, a development that would likely have severe consequences for the global financial system.
"Greece is the single largest determinant with what's going on with regard to sentiment," said Dan Greenhaus, equity market strategist at BTIG. "But there's a level of exhaustion. There's a sense that we want to get it over with."
For most of 2012, investors have largely ignored problems in Europe, pushing up all three indexes.
The Dow ended last week at its highest level since May 2008, while the Nasdaq -- up more than 11% for the year -- finished at its highest level since December 2000. U.S. stocks rallied Friday, following a much larger-than-expected increase in hiring and a surprise drop in the unemployment rate.
Companies: Shares of Alpha Natural Resources (ANR) moved up more than 3% Monday. The company announced late Friday that it will reduce coal production by four million tons due to weakening demand.
Over the weekend, Micron Technologies (MU, Fortune 500) appointed Mark Durcan to lead the company after CEO and chairman Steve Appleton died Friday in a small-plane crash in Boise, Idaho. Durcan, who will also be the director of Micron's board, previously served as chief operating officer and chief technical officer. Shares of the company fell nearly 3%.
Meanwhile, investors will continue to keep an eye on quarterly corporate results.
Hasbro's (HAS) fourth-quarter earnings beat forecasts by a penny a share. Although sales fell short, shares of the toy and boardgame maker climbed more than 2%.
Humana's (HUM, Fortune 500) fourth-quarter profit rose from a year earlier, and the health insurer provided an upbeat guidance, but shares dropped nearly 5%.
Coinstar (CSTR), the parent of video rental company Redbox, announced that it formed a joint venture with Verizon (VZ, Fortune 500) to compete against rival Netflix (NFLX). Both Coinstar and Netflix's shares edged up roughly 2%. Verizon's shares moved up 0.9%.
Coinstar beat estimates for its fourth-quarter earnings when it reported after Monday's closing bell.
Yum! Brands (YUM, Fortune 500), owner of KFC, Taco Bell and Pizza Hut, also beat earnings estimates when it reported fourth quarter earnings after the bell Monday.
World markets: European stocks closed lower. Britain's FTSE 100 (UKX) slid 0.3%, the DAX (DAX) in Germany shed 0.1% and France's CAC 40 (CAC40) dropped 0.5%.
Asian markets ended mixed. The Shanghai Composite (SHCOMP) rose slightly and Japan's Nikkei (N225) added 1.1%, while the Hang Seng (HSI) in Hong Kong dipped 0.2%.
Currencies and commodities: The dollar rose against the euro, the British pound and the Japanese yen.
Oil for March delivery slipped 65 cents to $97.19 a barrel.
Gold futures for April delivery fell $15.10 to $1,722.80 an ounce.
Bonds: The price on the benchmark 10-year U.S. Treasury rose, pushing the yield down to 1.90% from 1.95% late Friday.
CNNMoney's Ben Rooney contributed to this article.