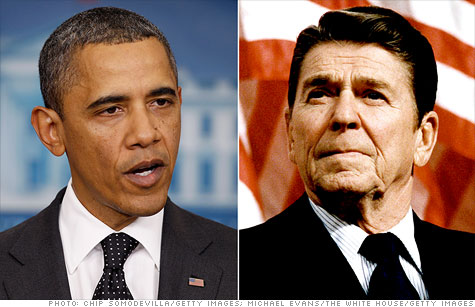 Will President Obama get a second term? Reagan did.
NEW YORK (CNNMoney) -- Faced with a strong jobs report Friday, Republicans tried out a new rhetorical message: This isn't a disaster, but Ronald Reagan could have done better.
"It didn't have to be this way," said Rep. Cathy McMorris Rodgers of Washington. "There is a different approach that we could've taken. President Reagan took a very different approach."
On the other side of the aisle, Democrats have been careful not to compare the recovery to anything like Reagan's fabled "Morning in America."
Alan Krueger, chairman of the White House's Council of Economic Advisers, said that while the jobs report "provides further evidence that the economy is continuing to heal," it is "important not to read too much into any one monthly report."
So the parties are in agreement: The recovery of today is not like the recovery of 1983 and 1984.
And that's true.
"The Reagan recovery had one of the fastest rates of growth we ever saw," said Barry Bosworth, an economist at the Brookings Institution. "If anything it was too strong. It was spectacular."
Just take a look at the numbers:
The economy grew at 4.5% in 1983, with a few quarters of growth north of 8%. In 2011, meanwhile, the economy grew just 1.7%.
In just one month -- September 1983 -- the economy added more than a million jobs. For the full year, the economy added almost 3.5 million jobs, a trend that continued into 1984, an election year in which Reagan captured 49 states in a landslide victory.
Obama can claim job growth of 1.8 million in 2011. A welcome comeback, but still tepid by comparison.
Looking ahead to 2012, Obama could replicate the 243,000 jobs created in January over each of the next 11 months and still not approach Reagan's total for 1984 of 3.9 million.
Reagan had an advantage over Obama: The recession of the early 1980s was caused by runaway inflation, which the Federal Reserve countered by hiking interest rates. When inflation dropped, the Fed lowered rates and a massive economic boom resulted.
"The monetary policy run by [Fed chairman] Paul Volcker was extremely successful," said Rudolph Penner, a former director of the Congressional Budget Office. "When inflation went away, that laid the groundwork for a very rapid recovery."
The major causes of the recession that started in December 2007 were a banking crisis and housing bubble that exploded during President George W. Bush's final months in office. Plus, interest rates were already low heading into the recession.
The damage to the economy was not easy to fix in the short-run, said Greg Valliere, chief political strategist at the Potomac Research Group.
"We nearly fell off a cliff, and people have short memories. I think the threat to the country was far greater in 2008 than in the early 80s, which was a garden variety recession."
Another difference: With comparatively small debt loads, Reagan was able to push through a 23% across-the-board cut of individual income tax rates.
With revenue lower today, a tax cut of that magnitude is, according to Bosworth, something "we can't really afford anymore."
Obama entered the presidency with substantial budget deficits and an economy contracting at a rate of 6.7%.
And both Bosworth and Penner agree that the stimulus package Obama did end up with could have been much better.
"The stimulus was poorly designed and didn't get the bang for the buck we could have gotten," Penner said.
Still, it is possible to draw comparisons between the two recoveries within the context of the election cycle.
Just consider the good news in Friday's report: The unemployment rate dropped to 8.3%, the lowest it has been since February 2009, after peaking at 10% in October 2009.
Beyond that, the private sector added jobs for the 23rd straight month.
At this point in Reagan's first term, the unemployment rate was 8%, down from a peak of 10.8%. He ultimately was elected when unemployment was 7.2%.
"The pattern here in 2012 looks a little like 1984 in that the economy is beginning to accelerate and the unemployment rate is starting to come down," Valliere said. "I think we can get to a little under 8% by Election Day."
Some political scientists say a more useful predictor of electoral success is the general trend and how Americans feel about the economy.
"You can start at quite a high level of unemployment," Penner said. "But so long as things are improving around the election, that improves the incumbent's chances considerably."
But the White House has a long way to go to convince most Americans.
According to an NBC News/Wall Street Journal poll conducted late last month, only 45% of Americans approve of the way Obama is handling the economy, while 50% disapprove.
And a few stumbling blocks -- the Eurozone debt crisis and domestic housing market -- are still lurking.
"Obama's had a couple of good months, but keep in mind this has happened a few times over the last couple years," Bosworth said. "I think people are getting too excited."