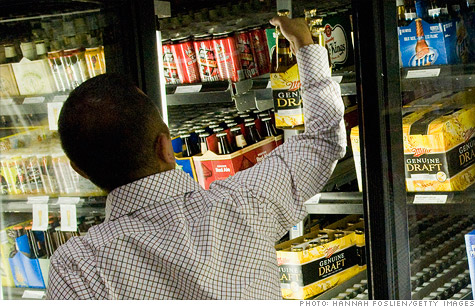 A bill passed in the House bans the spending of welfare money in liquor stores, casinos and strip clubs.
NEW YORK (CNNMoney) -- If welfare recipients want to dole out the dollar bills at a strip club, they'd better make sure it's not government money ... at least if a bill in Congress becomes law.
The House last week overwhelmingly passed legislation that would require states to ban the ability to access government benefits at strip clubs, liquor stores and casinos.
The benefit program in question is Temporary Assistance for Needy Families (TANF), formerly known as welfare. TANF provides cash assistance to working poor families -- often through an electronic benefit transfer card that can be used like a debit card. The money is meant to be spent on food, rent and other necessities.
Some recipients' use of their TANF benefits were called into question after media reports found the cards were being swiped at ATMs in strip clubs, liquor stores and casinos. Some recipients were also accessing their benefits out of state, including in Las Vegas casinos, at shops in Hawaii and on cruise ships, according to the reports.
The bill would force states to develop policies to prevent this from happening.
"This legislation stops waste, fraud, and abuse within the welfare program," said Rep. Charles Boustany, Jr., a Louisiana Republican. "It protects the public interest by ensuring money meant to help Americans get back on their feet is used for that very purpose."
Advocates for the low-income, however, said the legislation isn't really needed and that Congress has more important issues to focus on.
"Of all the things Congress needs to be dealing with, that this is a priority seems pretty strange," said Elizabeth Lower-Basch, senior policy analyst at CLASP, adding that several states have already adopted such rules.
Also, many low-income Americans live in areas where banks are scarce, making it hard for them to find an ATM, she said. Barring them from using ATMs in liquor stores or casinos could mean recipients have to travel farther or pay higher fees to access their benefits.
The legislation, which is also part of the larger payroll tax bill now before a Congressional conference committee, moves to the Senate.