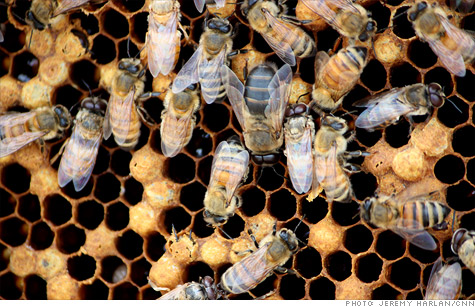 Despite mysterious mass deaths in honeybee colonies, beekeepers have so far prevented price spike of foods that bees pollinate like almonds, blueberries and cherries.
NEW YORK (CNNMoney) -- There's good news and bad news on the honeybee beat.
First the bad news. Bees are still mysteriously dying. Over the last five years roughly 30% of captive honeybees, which pollinate much of the food we eat, wind up dead at the end of each winter.
For whatever reason -- probably a combination of pesticides, parasites, disease and poor nutrition -- honeybees have been dying off at an alarming rate.
The exact cause is still not known.
Now for the good news. Beekeepers have been able to rejuvenate their hives each year so that by summer the population is back to previous levels.
There's another bit of good news, too. Agricultural yields are rising, which means that while rejuvenating beehives is costly, the cost isn't making its way to the supermarket.
"It shouldn't be a significant item on the radar screen of consumers," said Daniel Sumner, an agricultural economist at The University of California Davis and an author of the paper "Bee-conomics." "It's not that big of a deal."
This isn't to minimize the severity of the bee problem here.
The die-off is being mainly observed in captive honeybee hives -- the kind commercial beekeepers tote around the country on flatbed trucks, stopping for a few weeks at time to pollinate various crops including almonds, cantaloupe, apples and blueberries.
But it's thought that wild bees -- which are much more difficult to observe -- are also dying. That's raising concerns about what's going on in our environment.
Honeybees dying in the winter have always been one of the challenges of beekeeping, only now it's getting worse. And part of the die-off is particularly mysterious. About 10% of the bees are simply vanishing, disappearing without leaving any bee bodies behind.
"They could just fly away," said Kim Kaplin, a spokeswoman for the Agricultural Research Service, a branch of the U.S. Department of Agriculture. "But that would be unusual because they aren't taking any of their honey with them."
And while honeybees pollinate many fruits and vegetables, other food crops like rice, wheat and corn are pollinated by the wind.
Plus, honeybees aren't native to North America to begin with. They were brought here by European colonists. And while the die-off might raise questions about the health of our environment, the loss of the honeybee isn't a direct threat to our ecology.
But the honeybee is instrumental in pollinating a handful of crops, and it's for this reason beekeepers are going to great lengths to replace the lost bees each year.
Typically this involves buying a new queen or two, then splitting the hives to regenerate. Beekeepers are also supplementing the bees' natural diet of pollen and nectar with other proteins.
"Our costs have more than doubled," said David Hackenberg, a Pennsylvania-based beekeeper who's been in the business since 1962. "We pass the costs along to the farmer."
It's California's almond industry, responsible for 75% of the world's almond production, that bears most of the burden for these rising costs.
Almonds are one of the first crops of the season that need bee pollination and they're one of the most dependent on it. As such, the industry employs over half the nation's hives and gets hit with the brunt of the rejuvenation tab.
The costs have indeed gone up. A typical 50-acre almond orchard might need 50 to 100 hives to pollinate the trees. With the price per hive going from $75 to $150 over the last few years, that translates to an extra $3,750 to $7,500 for a small almond grower. Pollination can now account for 30% of an almond grower's annual costs.
That, combined with rising demand for almonds worldwide, could have meant surging almond prices. But that's been prevented thanks to rising yields brought about by better technology and farming practices, said Bob Curtis, associate director for agricultural affairs at the Almond Board, which represents California's almond industry.
The price of almonds has not risen substantially since 2006.
Indeed, according to USDA, the prices for nearly a dozen fruits and vegetables that use honeybees to pollinate haven't risen markedly over the last six years.
So while it doesn't appear to be translating into a food shortage or even sparking a price spike for consumers, the bee die-off remains a scientific mystery and perhaps a cause for concern about our environment.
"Several species of bumblebees are thought to have gone extinct," said Dennis vanEngelsdorp, a bee researcher at the University of Maryland. "Extinction of a species is always a concern, and native plants rely on [bees] for pollination. But they don't get a lot of attention, so we really don't know what it means in North America."