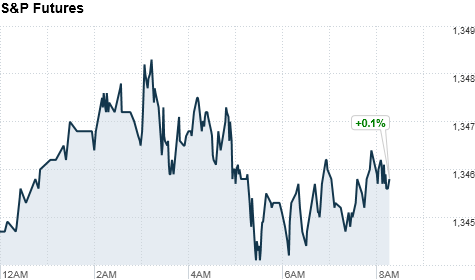 Click on chart to track markets
NEW YORK (CNNMoney) -- U.S. stocks were set to take another step higher Wednesday, extending gains from the previous day, as hopeful investors continue to bet that Greece will soon secure the bailout it needs to avoid a disorderly default.
The Dow Jones industrial average (INDU), S&P 500 (SPX) and Nasdaq (COMP) futures were up between 0.1% and 0.2%. Stock futures indicate the possible direction of the markets when they open at 9:30 a.m. ET.
Investors will continue to look for news out of Greece, where leaders are hammering out the details of an austerity package. The package is necessary for the country to receive a €130 billion bailout from the European Union, International Monetary Fund and European Central Bank. Without these funds, Greece could miss a €14.5 billion bond redemption in March.
Tuesday brought reports of a proposal for public spending cuts, which gave investors reason to be hopeful. However, a meeting between Prime Minister Lucas Papademos and party leaders to discuss the austerity measures was delayed until Wednesday.
"All eyes will be on Athens again today," said Grant Lewis, head of research at Daiwa Capital Markets in London.
U.S. stocks moved higher Tuesday, erasing earlier losses, on optimism about a Greek debt deal.
Companies: Investors continued to tune in to quarterly corporate results on Wednesday.
Sprint Nextel (S, Fortune 500) reported a steep loss for the fourth quarter, shedding $1.3 billion, or 43 cents per diluted share, which was even worse than its year-earlier loss of $929 million, or 31 cents per share. The company blamed the sales expense from its launch of the iPhone.
Sprint's stock rose 1% in premarket trading.
CNNMoney parent company Time Warner (TWX, Fortune 500) beat expectations on earnings and revenue. The media company reported fourth-quarter adjusted net income of $946 million, or 94 cents per share, an increase from the prior-year figure of $754 million, of 65 cents per share.
Time Warner also raised its dividend by 11% and announced a 4 billion share buyback. The company's stock rose 3% in premarket trading.
CVS Caremark (CVS, Fortune 500) said that its revenue jumped 11% to a record $107 billion and its adjusted earnings rose 6% to $2.80 per share. The stock rose 2% in premarket trading.
Buffalo Wild Wings (BWLD) said its same-store sales jumped 9% in the fourth quarter, contributing to a 35% revenue boost, to $220 million, and a 34% surge in net earnings, to $13.6 million. The sports-theme restaurant chain's stock surged 15% in premarket trading.
Western Union (WU, Fortune 500) reported an increase in fourth-quarter revenue of 5% to $1.4 billion. The 160-year-old money-sending company said that earnings rose 40 cents excluding a tax benefit, compared to 37 cents in the year-earlier quarter. The company's stock dropped 7%.
Polo Ralph Lauren (RL, Fortune 500) reported its most recent quarterly earnings, showing a 12% surge in same-store sales and a 17% jump in revenue to $1.8 billion compared to the year-earlier quarter.
The clothing retailer reported net income of $169 million for the quarter, only slightly higher than its prior-year result. The company said that diluted net income was $1.78 per share for the quarter, up from $1.72 a year earlier. The company's stock surged 7% in premarket trading.
Following the market's close, daily deals site Groupon (GRPN) is on tap to make its first quarterly report as a public company. Dow component Cisco Systems (CSCO, Fortune 500) is also slated to report in the afternoon, as are News Corp. (NWSA, Fortune 500) and Visa (V, Fortune 500).
Late Tuesday, Yahoo (YHOO, Fortune 500) announced that four longtime board members, including the chairman, are leaving the company. The departures stemmed from board discussions about "why Yahoo! was not meeting either our own expectations or those of our shareholders," wrote Chairman Roy Bostock in a letter announcing the shakeup -- including his own departure.
Also, Caesars Entertainment (CZR), a casino entertainment provider, will start trading Wednesday on the Nasdaq, after raising $16 million through an initial public offering.
Economy: The Energy Information Administration will release this week's data on crude oil inventories after 10:30 a.m. ET. U.S. gas prices were at a record high in January, which analysts attribute in part to the improving economy.
World markets: European stocks were higher in afternoon trading. Britain's FTSE 100 (UKX) edged up 0.1%, the DAX (DAX) in Germany added 0.7% and France's CAC 40 (CAC40) gained 0.5%.
Asian markets ended with solid gains. The Shanghai Composite (SHCOMP) spiked 2.4%, the Hang Seng (HSI) in Hong Kong increased 1.5% and Japan's Nikkei (N225) rose 1.1%.
Currencies and commodities: The dollar was slightly lower against the euro and the Japanese yen, but gained ground versus the British pound.
Oil for March delivery rose $1.22 to $99.68 a barrel.
Gold futures for April delivery fell $1.30 to $1,745.10 an ounce.
Bonds: The price on the benchmark 10-year U.S. Treasury fell, pushing the yield up to 1.98% from 1.97% late Tuesday.