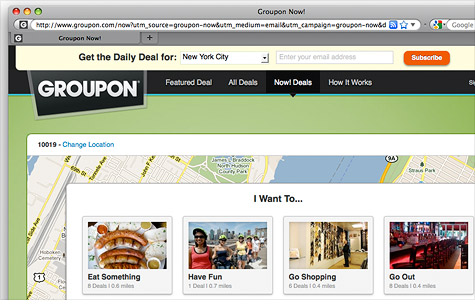 NEW YORK (CNNMoney) -- Welcome to the big leagues, Groupon. Shareholders punished the stock after the daily deals site posted a surprise loss for its first quarter as a public company.
Groupon reported a net fourth-quarter loss of $42.7 million, or 8 cents a share, on sales of $506.5 million.
Analysts polled by Thomson Reuters were expecting earnings of 3 cents a share on sales of $475 million. For the full 2011 fiscal year, Groupon lost $350.8 million on sales of $1.6 billion.
Investors ignored the strong revenue and focused on the earnings loss, sending Groupon (GRPN) shares down almost 11% in morning trading on Thursday.
The famously oddball Groupon CEO, Andrew Mason, spoke on a post-earnings conference call with analysts. But Mason stayed within the lines for his first earnings call, maintaining a serious tone throughout the discussion.
1,600% tax rate: Analysts jumped on an eye-popping figure in Groupon's report: a tax expense of $34.8 million in the fourth quarter, which the company said is an effective tax rate of approximately 1,600%.
That massive tax rate was the result of profits in "certain international countries," as well as income tax laws related to Groupon's new international headquarters in Switzerland.
"It makes us a good corporate citizen," joked Groupon CFO Jason Child, who added that the company expects its effective tax rate should plunge to "the low 30s, over time."
Technology spending: Groupon's financial report revealed that its technical staff -- engineering and product development -- more than quadrupled in 2011.
That growth included an expansion into new office space in Palo Alto, Calif., the heart of Silicon Valley. Mason said that type of spending will continue.
The execs also hyped new Groupon products, including vacation Getaways and holiday-gift offering Grouponicus.
Mason said he was "shocked" by how many customers made Getaways purchases through their mobile devices the first week of launch.
"They're spending $300, $400 based on little pictures on hotels on their phones," Mason said, proclaiming it evidence of "the trust that they have in the Groupon brand."
Customers can expect more "occasional themed campaigns" like Grouponicus, Child said.
All in all, it was a routine and sober call from a usually feisty company.
Groupon's rocky road to the stock market: Groupon began trading publicly on November 4 after an IPO process filled with controversy.
As soon as Groupon disclosed its financials in its June 2011 IPO filing, critics slammed the company for its unorthodox accounting measures. That led to several downward revisions of Groupon's financials. Those restatements effectively cut Groupon's reported sales in half to $688 million for the first half of 2011, down from the $1.5 billion it initially claimed.
Despite all that, Groupon shares soared about 31% on their debut day, at one point topping $31 a share.
But the end of 2011 proved turbulent for the Internet sector. Shares of Pandora (P), Zillow (Z), LinkedIn (LNKD) and Angie's List (ANGI) all suffered steep double-digit losses for November. Groupon posted a streak of declines late that month that sent shares tumbling below their IPO price.
But most of the newly public Internet companies began to rebound at least a bit in December or January. Groupon pulled out of its slump too. Its shares are up 19% for 2012 so far, trading at about $25 a share -- up from its $20 IPO price.
Last week, Facebook rocked the Internet IPO world by filing for its own $5 billion offering.