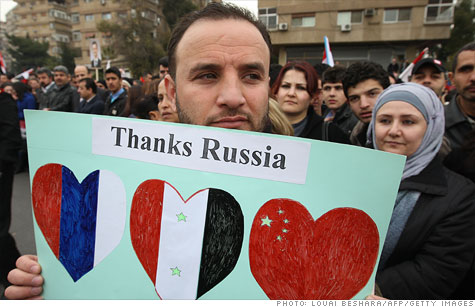 A Syrian pro-government supporter holds up a sign as a convoy carrying Russian Foreign Minister Sergei Lavrov heads towards the presidential palace in Damascus on Tuesday.
NEW YORK (CNNMoney) -- Russia's controversial stance in the Syrian crisis has left many wondering what Moscow stands to gain by backing the brutal regime of Bashar al-Assad.
Analysts say political and strategic concerns are Russia's primary motivation: Moscow is pushing back against what it sees as excessive Western interventionism in sovereign states, and fears losing an old ally that is its last foothold in the Middle East.
But economic ties -- valuable military contracts and energy investments that could be lost if the Assad regime fails -- play a key role as well.
"It's a significant economic interest," said Daniel Treisman, a Russia specialist at UCLA. "We're talking about several billion dollars in contracts with Syria may be at risk."
Billions in arms sales: Even as images of horrific suffering stream out of the country, Russia has maintained that the situation is for Syrians to resolve without outside intervention.
Russia and China vetoed a proposed U.N. resolution aimed at halting the violent crackdown, and Russian Foreign Minister Sergey Lavrov touted Assad's commitment to ending the violence during a visit to Damascus on Tuesday.

Russia has long been Syria's primary military supplier and currently has about $4 billion worth of contracts for future arms deliveries to Damascus, according to a report from global analysis firm Oxford Analytica. Syria received 6% of total Russian arms exports in 2010, the report said, and is "critical for some [Russian] companies' financial survival."
"Overseas arms contracts are very important for the Russians," said Rajan Menon, a professor at Lehigh University who studies Russian foreign relations. "There have been significant cuts in the size of the Russian military budget relative to the Soviet period, so if you want to keep people employed in the military-industrial complex, you need exports of armaments."
Recent turmoil in the Middle East, however, has cut into this business.
With the loss of arms sales to Iran following U.N. sanctions and the cancellation of contracts in Libya after the Gadhafi regime's overthrow, the list of Russian arms customers in the region is dwindling. The lost business with Iran was worth $13 billion, according to Treisman, while the Libyan deals totaled $4.5 billion.
The loss of Syrian business would not by itself sink Russian arms production, but the issue has taken on added significance with Russia's presidential election looming and factory workers' votes up for grabs, said Sarah Michaels, the chief Russia analyst at Oxford Analytica.
The close military ties between the two nations have also yielded Russia's only military base outside the former Soviet Union, a naval facility in the Mediterranean port of Tartus.
Beyond the arms trade, Russian companies have made a number of investments in Syria. These projects are worth roughly $20 billion and include some from Russia's powerful energy sector, such as a natural gas production facility and pipeline, according to Oxford Analytica.
Dealing with dictators: Russia, of course, is not unique in its dealings with one of the region's autocratic regimes. The United States, for example, had significant economic ties to Egypt under the Mubarak government that came under scrutiny amid the turmoil there last year.
For now, Russian leaders are betting that their strategic interests will be best preserved if Assad can maintain his grip on power, Treisman said. The economic concerns, he added, are "one element" in Moscow's broader considerations.
"If they come to believe that Assad's on his way out, then I think they will start to worry much more about what policy his successor will take toward Russia, and its economic and military interests," Treisman said.
The Obama administration, for its part, says it's clear that Russia needs to rethink its approach.
"Russia must realize that betting everything on Assad is a recipe for failure," White House press secretary Jay Carney said this week.
CNN Wire staff contributed to this report.