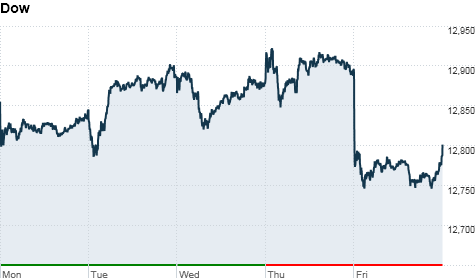 Click chart for more market data.
NEW YORK (CNNMoney) -- After a week dominated by hopes and fears about Greece, investors will continue to follow the plight of the nation at the center of Europe's debt crisis as it enters another crucial week.
Investors will also have a full slate of data on the U.S. economy to sift through next week, which could vie with jitters about a default by debt-stricken Greece.
Stocks sank Friday after eurozone finance ministers postponed a decision on additional bailout funds for Greece, saying the government's latest austerity program does not go far enough.
The Greek Parliament voted in favor of the politically unpopular reform package late Sunday, paving the way for the ministers to sign off on a second bailout worth €130 billion when they meet Wednesday.
Meanwhile, violent protests against the austerity measures continued over the weekend in Athens.
In addition to parliamentary approval, Greece needs to identify an additional €325 million in spending cuts. And political leaders must provide binding assurances that they will follow through on the reforms even after elections are held later this year.
The concern is that Greece will default on a €14.5 billion bond redemption in March if the government cannot secure additional bailout funds.
Friday's retreat pushed the major indexes lower for the week. The Dow Jones industrial average (INDU) and the S&P 500 (SPX) both lost 0.5% last week, while the Nasdaq (COMP) eased 0.8%.
Despite the down week, stocks have been sailing higher this year. The Dow is up nearly 5% so far in 2012. The S&P 500 has gained nearly 7% and the Nasdaq has rallied over 11% year to date.
In the United States, investors will take in a series of key economic indicators next week, including January retail sales, a regional manufacturing index, a report on new home construction, as well as producer and consumer inflation data.
On Wednesday, the Federal Reserve will release minutes from its January policy meeting, when the central bank broke new ground by releasing interest rate forecasts and an explicit target for the rate of inflation.
The Fed has been cautious about the outlook for the economy, pledging to hold interest rates at historic lows through late 2014. But investors have been more optimistic, focusing on a better-than-expected reports on the job market and fourth quarter gross domestic product.