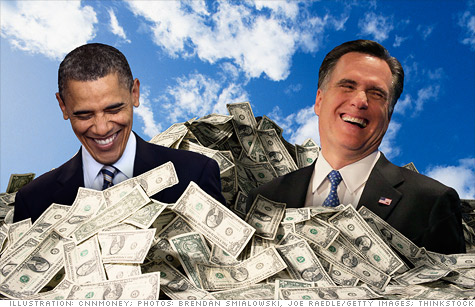 Gettin' money from their super PACs.
NEW YORK (CNNMoney) -- Are you a billionaire with a few million bucks to spare?
Assuming you've already got the customary roster of yachts, planes and vacation homes, you might want to try out the newest craze for super-wealthy Americans: Throw a few million dollars to a super PAC.
Boil down the stats and you come up with one big takeaway: A relatively small number of people are exerting tremendous influence over this election.
Already this election cycle, billionaire casino magnate Sheldon Adelson and his wife have given $10 million to a super PAC that supports former House speaker Newt Gingrich.
And Harold Simmons, who played a central role in the development of leveraged buyouts and corporate takeovers, has given $8.5 million to two super PACs, according to the Center for Responsive Politics.
FEC filings reveal the Dallas billionaire gave $5 million to Karl Rove-backed American Crossroads, while a corporation he owns chipped in another $2 million.
PayPal co-founder Peter Thiel gave $900,000 to Endorse Liberty, a super PAC that backs Ron Paul.
Even cash-strapped Rick Santorum, long something of an underdog, has his own super-rich backer: Foster Friess, who has donated at least $331,000 to the pro-Santorum Red, White and Blue Fund.
Friess' donations accounted for more than a third of the donations collected by the super PAC as of Dec. 31.
"Foster has been a long personal friend for 20 years," Santorum told CNN this week. "We have spent a lot of time together ... he's someone, again, who is a friend and will continue to be a good friend."
And if you don't happen to have close personal friends with a ten-digit bank account?
"Now I know why my campaign didn't work," Tim Pawlenty quipped on Wednesday. "I didn't have a billionaire."
The donation patterns of billionaires underscore a bit of common sense: They are really, really rich.
Take Adelson, who is CEO of Las Vegas Sands (LVS, Fortune 500), for instance. Recent estimates peg his net worth at around $20 billion. That means his $10 million donation was exactly one twentieth of one percent of his net worth. Yes, 0.05%.
That would be like a millionaire giving a $500 donation. Or a $50 gift for someone worth $100,000.
More than half of itemized super PAC money this cycle has come from just 37 people, according to a an analysis of disclosure reports conducted by PIRG and Demos, two research firms.
And gifts of $1 million or more -- from just 15 donors -- make up 38% of itemized, individual super PAC donations.
In sharp contrast to traditional campaign fundraising, which limits donations to candidates to $2,500 per person, most donations to super PACs are at least $10,000.
According to the PIRG analysis, 93% of all itemized contributions to super PACs were $10,000 or more. They came from just 726 individuals.
So far, Republican PACs have the upper hand when it comes to attracting huge donations from the super-wealthy.
Priorities USA Action, a super PAC founded by two ex-White House aides, reported only $1.5 million cash on hand at the end of 2011.
A larger coalition of Democratic groups, including Priorities USA, reported raising a total of $19 million.
However, Democrats are looking to reverse that trend.
Obama's re-election campaign is now encouraging donors to fundraise for a Democratic super PAC supporting the president. Administration and campaign officials will be used as surrogates at PAC events.
That's a sharp reversal of policy for the White House, which had previously bemoaned the role of outside spending groups, particularly those that are not required to disclose its donors.
"This isn't just a threat to Democrats," Obama said in 2010. "This is a threat to our democracy."