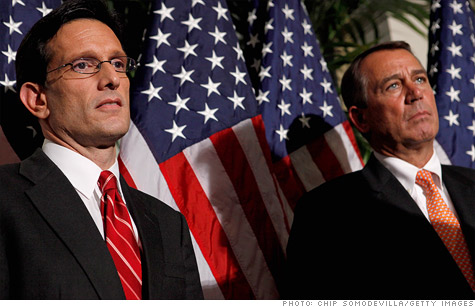 Eric Cantor and John Boehner face a tough sell to conservative members of the House.
NEW YORK (CNNMoney) -- The current Congress has a habit of lurching from crisis to crisis, usually reaching a deal to avoid the unpleasantness du jour just before time runs out.
They're at it again.
This time the fight is over the extension of three key policy items: The payroll tax cut, unemployment insurance and a scheduled pay cut to Medicare physicians.
The deadline is just two weeks away, and congressional negotiators are rushing to cobble together a deal, while duking it out over how to pay for the measures.
By late Tuesday, it appeared that negotiators were making progress, but a few stumbling blocks remain. (Read the latest at CNNPolitics)
Here is what's at stake:
Payroll tax cut: Allowing the tax cut to lapse would affect 160 million U.S. workers.
The tax cut reduces how much workers pay into Social Security, thereby increasing their take-home pay. While normally they would have to pay 6.2% on the first $110,100 of their income, the measure would maintain that rate at 4.2%.
So a person making $50,000 would get to keep an extra $1,000 a year -- or $83 a month -- as a result.
It would cost around $100 billion for a 10-month extension.
Not everyone in Congress is in love with the idea of extending the measure.
Douglas Elmendorf, director of the Congressional Budget Office, told Congress earlier this month that extending the payroll tax cut for 2012 could add 0.25% to the gross domestic product by the end of the year and reduce the unemployment rate by one- to two-tenths of a percent.
Unemployment insurance: The federal government has provided the unemployed an unprecedented amount of support during the Great Recession.
The jobless can receive up to 73 weeks of federal extended unemployment benefits once their state checks, which last up to 26 weeks, run out.
Federal benefits have been lengthened or extended nine times since they were authorized in June 2008. Now they have to be extended again.
If Congress fails to extend unemployment insurance, more than 3.3 million Americans would lose benefits by the first week of June, according to an estimate from the Joint Economic Committee.
And the economy at large might take a hit.
Economists generally rate unemployment benefits as an effective economic stimulus, as out of work individuals are very likely to spend benefits they receive in the marketplace.
Each dollar of unemployment insurance collected pumps about $2 into the economy, according to some estimates.
Doc fix: The other big to-do item on Congress' list is preventing a scheduled pay cut to physicians who treat patients with Medicare.
Without action, those docs will be in line for a 27% cut in payments.
Under the law, Medicare reimbursements to doctors must be reduced whenever those payments exceed a certain target. Since 2003, that target has been exceeded, but Congress has routinely prevented those pay cuts.
Many in Congress would like to pass a permanent doc fix, but the biggest stumbling block to doing so is figuring how to pay for the estimated $300 billion cost over the first decade.