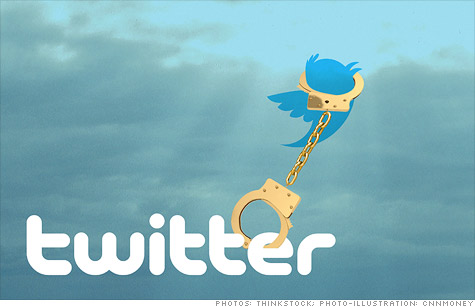 A policy barring Twitter shareholders from selling more than 20% of their stock is causing tension in Twitter's employee ranks.
NEW YORK (CNNMoney) -- While Facebook prepares to go public, Silicon Valley's other buzzy social startup, Twitter, is doing everything in its power to stay private. In pursuing that goal, it has slapped its shareholders with an unusual restriction: No one who holds stock can sell more than 20% of their shares.
The rule -- which has been in place for more than a year, according to e-mails obtained by CNNMoney, but is being reported here for the first time -- has caused dissent in Twitter's ranks.
It directly led to the departure of Twitter's senior technical engineer, Evan Weaver, who resigned in August. In an e-mail that went to all Twitter employees, Weaver said he quit over "policy disagreements" with the company.
The policy at issue was Twitter's 20% stock sale restriction, according to several people with knowledge of the discussions. Weaver, who is currently working on his own startup, declined to comment on the matter.
Weaver's missive prompted a quick response from CEO Dick Costolo, who sent out his own all-staff e-mail later that day laying out Twitter's reasons for imposing the limit.
The main one: Keeping under the "500 shareholder rule" to avoid going public.
When companies have more than 500 shareholders owning one class of equity shares, the SEC requires the business to begin disclosing its financial results. Companies aren't required to go public at that point, but most choose to. The rule was a catalyst in Facebook's recent IPO filing: Facebook moved past the 500 shareholder mark last year.
Twitter is going to great lengths to stay under the threshold.
"We don't want to be public until we have very predictable quarterly earnings growth," Costolo wrote in his August e-mail. "We're not ready to be a public company for a couple years."
That means that Twitter has to "artificially limit the supply of stock being sold," Costolo wrote. "There is one reasonable way to do this: Let everybody with vested common stock sell only some fraction of their shares."
A Twitter spokesman declined to comment on the issue.
Many private companies set limits on stock sales by current employees, and some impose annual caps on how much stock any shareholder can sell off, according to sources familiar with private trading patterns. But a blanket restriction like Twitter's, preventing shareholders from selling off more than 20% of their shares for the foreseeable future, is unusual.
Why do Twitter shareholders want to sell? The company's soaring valuation is a big motivator. Twitter's last major fundraising round put its value at around $8 billion -- a huge number for a company that is still firming up its business model. Industry research firm eMarketer recently estimated Twitter's 2011 advertising revenue at just shy of $140 million.
While Twitter's shares aren't publicly traded, they have generated heavy interest from private buyers eager to bet on the company's rapid user growth and cultural cache. But at Twitter's current valuation, it's a very expensive investment. As Costolo put it in his e-mail: "It takes a lot of investors now to buy a lot of stock at these prices."
To avoid having too many shareholders, Twitter has had to play matchmaker and seek out a handful of buyers who can afford to spend several hundred million dollars each buying up large batches of Twitter stock. The company has an extra condition. It only wants buyers who "don't want a significant say in how the company is run (board seats, special rights, etc)," Costolo wrote in his e-mail.
Twitter found one such buyer recently: Saudi Prince Alwaleed bin Talal, who announced in December that he had acquired a $300 million stake in Twitter. The deal was done entirely through private share purchases from existing stockholders, Fortune reported.
All of Twitter's employees -- it currently has around 900 -- have equity in the company, but only Twitter's investors and its earliest employees hold actual stock.
Last year, Twitter changed its approach and began granting new employees "restricted stock units" that will only be converted to common-stock shares after a "liquidity event" such as an IPO or corporate takeover. Those RSUs, which can't be sold to investors, don't count toward the 500-shareholder limit. Facebook used a similar tactic to delay its IPO filing.
But for early Twitter employees -- who do hold actual, vested stock -- the 20% rule is a frustrating form of golden handcuffs. Some people who would like to leave Twitter feel stuck, according to several current and former employees. Without selling more shares, they don't have the cash to walk away.
Some like Weaver have left anyway, because of their philosophical objections to the policy. Even those who leave, voluntarily or not, remain bound by the 20% restriction, which applies to all Twitter shareholders.
The issue came up in a recent staff survey Twitter conducted.
"Folks continue to be worried about the company losing its best talent," Janet Van Huysse, Twitter's vice president of human resources, wrote last month in a e-mail to employees summarizing survey's results. CNNMoney obtained a copy of the internal e-mail.
"In most cases, the comments name specific employees -- most of who left over the stock policy," Van Huysse wrote. "You'll note that there are not necessarily solutions here -- more so just anxiety that we lost so many 'senior' people."
Twitter experienced major employee turnover last year as the company worked to transform itself from a successful but haphazardly run startup to a more mature business. Two of Twitter's founders left while its third co-founder, Jack Dorsey, returned to take charge of its product vision. More than a dozen early company leaders departed, while hundreds of new employees joined Twitter's flock.
Insiders say those changes have generally been for the best. There's widespread agreement that Twitter -- once famous for the "fail whale" icon that marked its frequent crashes -- needed to sharpen its focus and improve its execution. Twitter's internal overhaul is starting to pay off: The company unveiled a widely praised redesign in December and has rapidly expanded its client roster of paying advertisers. EMarketer predicts that Twitter's ad revenue will almost double this year.
But for Twitter shareholders eager to cash out, the wait looks likely to be a long one.
"We're trying to build a decades-long, lasting business. We don't care about what the market window is for going public," Costolo said in an interview at a media conference two weeks ago. "I don't pay any attention to that, and I try to get everyone else in the company to not pay any attention to that."