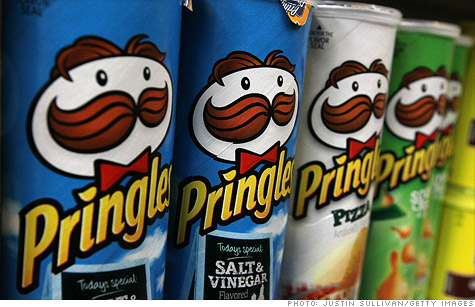 P&G is selling its Pringles unit to cereal maker Kellogg after an earlier deal fell apart.
NEW YORK (CNNMoney) -- Pringles will be getting a little extra snap, crackle and pop.
Kellogg Co., (K, Fortune 500) the maker of Rice Krispies and other cereals, has agreed to buy the Procter & Gamble unit that makes the potato chip maker for $2.7 billion. Wednesday's announcement came a week after P&G's previous deal to sell Pringles fell through in the wake of a scandal at would-be buyer Diamond Foods (DMND).
"The Pringles business is an excellent strategic fit for Kellogg, and it will significantly advance their goal of building a global snacks business on par with its global cereal business," P&G (PG, Fortune 500) said.
Kellogg did not have an immediate comment on the deal.
In the accounting scandal, Diamond Foods replaced its chief executive and chief financial officer, and announced it would restate two years of a results. Diamond -- which sells Diamond-brand nuts and Pop Secret popcorn -- said it will not have to pay a break-up fee for collapse of the deal.
"Diamond has enjoyed a positive and constructive working relationship with P&G throughout this process, and the mutual termination of our agreement and release of all associated liabilities was reached in the same spirit," said Diamond's Acting CEO Rick Wolford in a statement.
P&G said the all-cash deal is expected to give the maker of Tide detergent, Crest toothpaste and Pampers disposable diapers a one-time, after-tax gain of between $1.4 billion to $1.5 billion.
But the gain, which comes to between 47 cents and 50 cents a share, is less than the 55 to 65 cents a share P&G expected from the deal with Diamond Foods before the accounting scandal.
The previous deal, initially valued at $2.35 billion, was primarily a stock transaction, not cash, and the higher return estimate was due to an increase in Diamond's share price after the deal was announced last April. The stock transaction also would have been considered a tax-free transaction, while the cash deal will be taxed as a capital gain.