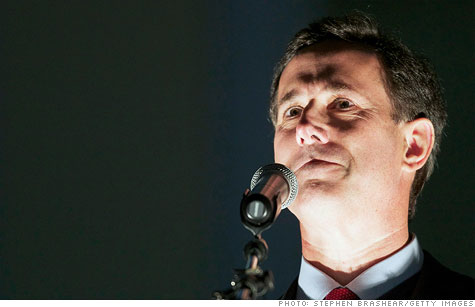 Rick Santorum has released four years of tax returns.
NEW YORK (CNNMoney) -- White House hopeful Rick Santorum lags behind both his 2012 competitors and wealthy Americans in general when it comes to charitable giving, according to tax documents.
Santorum gave $81,500 to charity over the past four years, or 2.2% of the more than $3.6 million in total income he earned since leaving the Senate, the documents showed.
The tax returns, provided to CNN on Thursday, did not break down charitable giving by recipient.
From 2007 to 2009, Santorum's rate of charitable giving fluctuated between 2.03% and 2.67% of his earnings.
In 2010, the rate dropped to 1.76% of his $923,411 in income. That same year, President Obama gave 14.2% of his income to charity, while Mitt Romney donated 13.8% and Newt Gingrich gave 2.6%.
Ron Paul has not released his tax returns.
According to data from the IRS and the Congressional Budget Office, taxpayers with income in excess of $500,000 donate 3.4% of their income to charity on average.
"His donation level is on the low side," said Ken Berger, the president and CEO of Charity Navigator, who also noted that research suggests religious individuals donate more than the non-religious.
"When you put it in the context of people of faith, then it really is on the low side," Berger said.
The relatively low contribution level is also a bit puzzling for a senator who championed non-profits and charitable organizations while in office.
"We should be proactive in finding ways to more fully engage the American public in charitable giving," Santorum said in a 2005 statement on the CARE Act, a bill he sponsored that sought to promote the interests of charities and provide incentives for Americans to donate.
Santorum has also come under fire for the giving practices of a charity called Operation Good Neighbor that he started more than a decade ago.
In his "founder's letter," Santorum wrote that one of the charity's goals was to help "break the cycle of poverty that sours the lives of too many men, women and children in our nation."
The group collected at least $2.3 million in contributions between 2001 and its termination in 2007, but only spent around 45% of total revenue on beneficiaries, according to IRS documents.
The rest went to fundraising, office space and personnel costs. In essence, the charity was spending more on itself than the people it was designed to help.
The charity, Berger said, lagged far below industry standards.
"Seventy-five percent or more reaching beneficiaries is excellent, and 65% or more is okay. If you fall below 50% you're really performing poorly," he said. "I would recommend donors flee from an organization like this."
While the Santorum campaign did not respond to calls and e-mails from CNNMoney on Thursday, the campaign did provide comment to the Washington Post, which detailed the charity's practices in January.
"Senator Santorum was very committed to helping raise funds for Operation Good Neighbor and did so with the understanding that those funds would be used to help many organizations and families located in urban areas of Pennsylvania," Santorum campaign adviser John Brabender told the paper.
CNN's Dana Bash contributed to this report