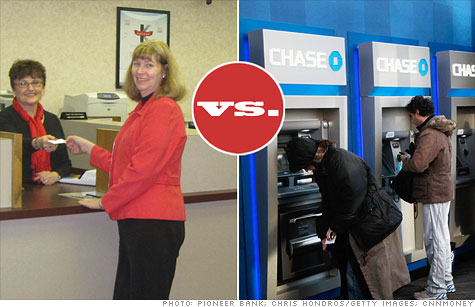 Hundreds of small community banks across the country are joining forces under the national brand Kasasa, in order to take on big banks.
NEW YORK (CNNMoney) -- Faced with growing competition from the likes of Chase, Bank of America and Wells Fargo, more than 100 community banks have joined forces to take on the megabanks.
Once rivals, these smaller financial institutions have banded together under a common brand called Kasasa. A total of 128 banks and credit unions across 35 states have joined this brand alliance to pool their advertising and marketing resources and offer more competitive products to their customers.
The banks' customers still conduct business directly with their individual bank (and their account is still FDIC-insured through the bank), but they are also getting the added benefits of being part of the broader network. For example, customers of member banks are able to open free Kasasa-branded rewards checking accounts and Kasasa high-interest savings accounts.
Started in 2009, Kasasa is the brainchild of Gabe Krajicek, the CEO of BancVue, which serves as the parent company of the alliance. Once a bank joins Kasasa, the company trains the staff on setting up Kasasa-branded accounts and handles all of the marketing and promotion for the banks.
In exchange, the bank pays a series of fees, both upfront and ongoing. There's a setup fee, a monthly software license fee and a success fee for each Kasasa-branded account that the bank opens. All of these costs depend on the size of the institution. Plus, the banks give a portion of their marketing and advertising budget to Kasasa.
For many of the banks that have joined Kasasa, the fees have been worth it.
Fighting a megabank invasion: As the megabanks kept opening branches in his area, David Krause, CEO of Pioneer Bank in St. James, Minn., reached out to his competitors to discuss banding together.
"I've been in banking for 25 years and viewed every other bank as a competitor," said Krause. "But over the past couple years, I've realized that other banks like us that serve their communities shouldn't be the ones we're competing with. We should really be highlighting our strengths and looking at megabanks as the competition."
A small community bank with six branches and only $223 million in deposits, his outfit was no match for banks like Bank of America, with nearly $1 trillion in deposits. Pioneer didn't have the resources to market itself or offer products that could compete with the big banks in terms of online features, rates and incentives.
So last year, Krause held a meeting at a local hotel with a handful of other community bank presidents. And by the time the meeting was over, he had convinced two other banks to join Kasasa.
Pioneer Bank currently offers three of Kasasa's products and has more than 1,500 Kasasa account holders with deposits totaling more than $14 million. In the first 15 months that the bank has offered the accounts, checking and savings deposits have increased 25%, compared to an increase of only 5% for the 15 months prior to that.
Economies of scale: The more banks that sign on from a specific region, the more money Kasasa has to reach potential customers in that area.
By getting seven banks in Ohio to join forces, for example, Kasasa was able to become the official sponsor of the Cleveland Cavaliers this January -- something one of the seven community banks would never have had the resources to do on its own, said Krajicek.
Momentum has been picking up recently as more consumers seek alternatives to fee-heavy big banks. Last year, Kasasa nearly doubled the number of community banks and credit unions in its network. Nearly all of the new members joined in the last four months of 2011.
At the rate things are going, Krajicek expects to double its membership by the end of the year and hit 1,000 members in three to five years. It is currently in discussions with 49 additional institutions. By the end of the first quarter, it expects to have an advertising budget of about $13.5 million.
Jeff Elsea, CEO of the Bank of Weston in Missouri, is one of the network's new recruits. After watching the number of community banks shrink from 10 to 3 as banks like Chase and Bank of America popped up in the area, he started reaching out to his rivals.
"[Megabanks] come in and put a branch here and there, and because of their marketing power they can run four-page ads all over the 'Kansas City Star,' they have billboards everywhere, and us little people can't do that," said Elsea.
Over the first two years of becoming part of Kasasa, the bank has generated $12 million in new deposits -- about a 10% increase -- which is a "big deal" for a bank with only about $100 million in total deposits, he said.
While some bankers were initially skeptical about teaming up with their rivals, he's confident that they will soon be following his lead.
"They were curious as to why in the world I would be calling them up and getting them to meet up, and the first time we got together there was some skepticism, but once they see the results we've had, I think they'll be coming back around," he said.