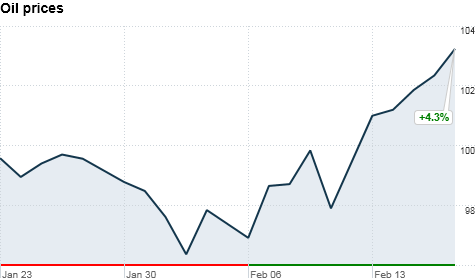 Click on chart to track commodities
NEW YORK (CNNMoney) -- Oil prices rose Monday after Iran cut exports to Britain and France, raising worries that higher gas prices may follow suit.
Iran's oil ministry said Sunday that it would stop exporting oil to French and British companies. The announcement came just days after Iran threatened to cut supplies to some European Union countries in retaliation for sanctions put in place by the EU and United States.
U.S. crude for April delivery jumped nearly 2% to $105.08 per barrel. Brent crude, Europe's benchmark, rose about 0.5% to $120.18 per barrel.
Prices for Brent haven't been above $120 for more than a year, and that could prove worrisome for U.S. drivers since many U.S. refineries use imported oil to produce gas, especially on the East Coast.
Prices are already up nearly 9% from the start of the year. According to motorist group AAA, the national average price of $3.56 a gallon marks the 13th consecutive increase.
The price of unleaded gasoline in the U.S. will likely hit a nationwide average of $4 by this summer, said Dan Dicker, oil trader and author of "Oil's Endless Bid." The last time prices topped $4 was 2008 and Dicker said there's a one in three chance that gas could reach $5 a gallon.
If gas prices do head to those lofty levels, that could put a crimp in the economic recovery as consumers will likely cut down on spending if they have to pay more to fill up their cars.
Just last month, higher gas prices were to blame for an uptick in inflation. And it's not just consumers who will suffer. Companies facing higher shipping costs may reel in their hiring plans, slowing job growth and putting a crimp into the overall economic recovery.
"This price juggernaut has taken on a life of its own since the Iran/Israeli threat flinging began and [the] boycott/sanctions war continues to ratchet upwards, and it's been made worse by the big run in stocks since the start of the year," said Dicker.
Capital Economics analyst Julian Jessop said the stock market rebound has contributed at least $5 worth of gains to the price of oil.
Israel has contributed to the market mayhem by openly considering an attack on Tehran's nuclear infrastructure.
Iran exports 2.2 million barrels of oil per day, a sliver of the 89 million barrels that is consumed worldwide on a daily basis. Less than one-fifth of Iran's exports are sent to Europe.
The move by Iran is "essentially an empty gesture, as the UK and France buy hardly any oil," said Jessop in a client note.
But it doesn't take much to trigger a fluctuation in prices, and even a bit player like Iran can wreck havoc on international markets.
"The supply is tethered so tightly to demand, that if you do lose even a small percentage of supply, it could have a big effect on the price," said Dicker.
-- CNNWires staff contributed to this report