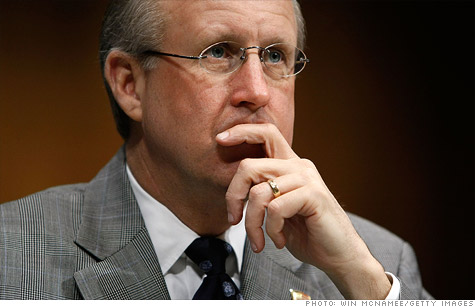 David Walker says there will be a third-party presidential candidate in 2012.
NEW YORK (CNNMoney) -- In the not-so-distant past, a crusading third-party presidential candidate ran a grass-roots, national campaign on a platform of fiscal responsibility and balanced budgets.
That candidate's name was Ross Perot, and in 1992 he captured 19% of the popular vote, and at one point even found himself atop the national horse-race polls.
Is America ready for another Perot?
David Walker thinks so.
A former comptroller general of the United States, Walker released a statement Monday saying that 20 years after Perot became a candidate, there are "striking comparisons between the state of the country in 1992 and today."
"I know there is a hunger for it," he told CNNMoney on Monday.
Walker -- who has toured the country for years harping on a message of fiscal responsibility -- believes it will happen.
"It's clear there will be a third option," Walker said, citing the influence of Americans Elect, a new group that is raising money to put a third-party challenger on the ballot in all 50 states.
"If you look at the conditions and compare them to 20 years ago, we are demonstrably worse off, and the degree of public discontent is greater," Walker said.
And is Walker, who has been floated by New York Times columnist Thomas Friedman as a potential candidate, the right person to jump in the race?
Walker told CNNMoney on Monday that "there are people who are trying to draft me to run" and "they can do what they want."
"But I'm not a candidate at the present time and don't expect to be a candidate," he said.
If he were to run, Walker would bring budget wonk credentials that can be matched by few. That's because he was warning about exploding deficits and long-term debt problems way before it was cool.
"We suffer from a fiscal cancer," Walker told 60 Minutes in 2007. "It is growing within us, and if we don't treat it, it could have catastrophic consequences for our country."
Since then, the national debt has ballooned to $15 trillion, and little has been done to curb the rising costs of health care and federal entitlement spending.
Walker said he wasn't very impressed with President Obama's latest budget proposal, calling it "inadequate." But he does give the president credit for drawing a distinction between short-term deficits and the long-run structural problems the country faces.
Still the president's plan doesn't go far enough. "We are still running deficits of $700 billion 10 years from now," Walker said.
At the same time, Walker said "Republicans haven't developed [a credible plan] either."
Specifically, Republicans need to acknowledge that adding revenue to federal coffers is essential to bringing down the deficit. Walker said the country needs roughly $1 dollar in additional revenue for ever $3 in spending cuts.
The additional revenue should come as part of a plan that reforms the overly complicated tax code.
Walker gave few details on what he would do specifically to help bring down runaway deficits, but he did say that the hyper-partisan atmosphere on Capitol Hill was acting as an impediment to good legislation.
"I don't advocate a specific reform proposal because in the end you have to consider good ideas from multiple sources," Walker said.
Policy aside, Walker does appear to be right about a hunger existing for a third-party candidate.
According a Washington Post-ABC News poll conducted last month, 46% of Americans said they would consider voting for an independent third-party candidate they agreed with on the issues.
An additional 22% said they would "definitely" vote for such a candidate.
That's a lot of votes. And if Friedman has his way, some could be going to Walker -- who already has something of a ready-made message:
"A lot of people are talking about the problems, but not a lot of people are talking about solutions," Walker said Monday. "I focus on three things: truth, leadership and solutions. And those are the three biggest deficits that we have."