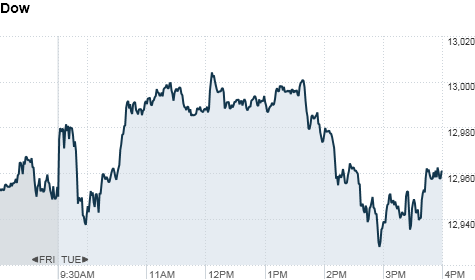 Click chart for more markets data.
NEW YORK (CNNMoney) -- U.S. stocks stumbled into the close Tuesday, shaking off a modest morning rally ignited by news of that eurozone deal to help Greece avoid defaulting on its debt.
The Dow Jones industrial average (INDU) briefly topped 13,000 -- a level not seen since mid-May 2008 -- but fell back to roughly 12,966, jumping 16 points for the day, or 0.1%.
The S&P 500 (SPX) added 1 point, or 0.1%. The Nasdaq (COMP) shed 3 points, or 0.1%.
It's been a good year for stocks so far. The Dow is up more than 6% from the start of the year. The S&P 500 and the Nasdaq are up 8% and 13%, respectively.
Traders said Tuesday was a particularly quiet day on trading floors with few shares changing hands.
Initial gains were driven by progress made in Greece, which has been mired in a recession for years and desperately needs more bailout funds to stave off default.
After weeks of negotiations and market speculation, eurozone finance ministers completed a deal early Tuesday that will provide Greece with the €130 billion in funding it needs.
"Greece was already priced in, which is why we're not getting a big reaction," said Doug Cote, chief market strategist at ING Investment Management.
The euro surged immediately after the deal was announced, rising to nearly $1.33 before retreating. That level hasn't been hit since early December.
In the United States, several retailers, including Dow component Wal-Mart Stores (WMT, Fortune 500), released their quarterly results ahead of the bell. While Wal-Mart missed expectations, causing the big box retailer's shares to drop nearly 4%, most of its competitors fared better -- offering some signs of an economic recovery.
Financial stocks continue to move higher with Goldman Sachs (GS, Fortune 500), Morgan Stanley (MS, Fortune 500), Credit Suisse (CS), JPMorgan Chase (JPM, Fortune 500) and Citigroup (C, Fortune 500) up between 1% and 3%.
U.S. markets were closed Monday for Presidents Day. Shares finished mixed Friday with the Greek situation still unresolved.

World markets: European stocks ended lower. Britain's FTSE 100 (UKX) dropped 0.2%, the DAX (DAX) in Germany dipped 0.5% and France's CAC 40 (CAC40) shed 0.2%.
Asian markets ended mixed. The Shanghai Composite (SHCOMP) gained 0.8% and the Hang Seng (HSI) in Hong Kong ticked up 0.3%, but Japan's Nikkei (N225) lost 0.2%.

Companies: Shares of J.C. Penney (JCP, Fortune 500) fell 3%, after Fitch cut the retailers' rating to junk status.
Shares of Netflix (NFLX) fell 3%, after cable company Comcast (CMCSA, Fortune 500) announced a new instant video streaming service.
Home Depot (HD, Fortune 500) reported fiscal fourth-quarter earnings and revenue that topped analysts' expectations. The home improvement retailer cited favorable weather, saying sales at U.S. stores open a year or more climbed 6.1%.
Macy's (M, Fortune 500) shares rose slightly after the retailer reported better-than-expected earnings and sales that were in line with forecasts.
Shares of Dell (DELL, Fortune 500) dropped nearly 3% in after hours trading, after the computer maker reported earnings that beat revenues expectations but missed on profits. Competitor Hewlett-Packard (HPQ, Fortune 500) is scheduled to report earnings Wednesday.
Wynn Resorts (WYNN) shares climbed 6%, after reports claimed that the company will buy out Japanese gambling tycoon Kazuo Okada's 20% stake at a big discount.
Shares of Kraft Foods (KFT, Fortune 500) rose after the company reported earnings in line with forecasts and predicted earnings' growth of 9% in 2012.
Currencies and commodities: The dollar was little changed against the British pound, but rose versus the Japanese yen.
Oil for March delivery, in its final day of trading, rose $2.64 to $105.88 a barrel. The more active April contract gained $2.65 to $106.25 a barrel.
Gold futures for April delivery climbed $32.60 to $1,758.50 an ounce.
Bonds: The price on the benchmark 10-year U.S. Treasury ended the day at a yield of 2.01% near its yield late Friday.