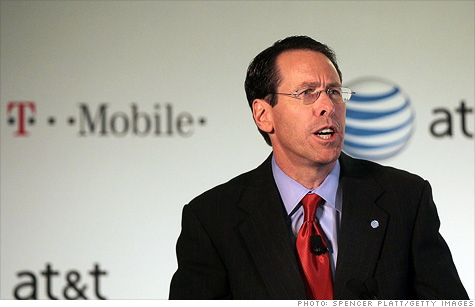 AT&T CEO Randall Stephenson's paycheck is $2 million lighter because of his failed T-Mobile takeover bid.
NEW YORK (CNNMoney) -- What's the cost of a $4 billion gamble gone wrong?
For AT&T CEO Randall Stephenson, the answer is, "$2 million." That's the sum by which AT&T's board cut his 2011 compensation as a direct response to the failed T-Mobile takeover bid Stephenson led last year.
AT&T offered $39 billion for T-Mobile, a deal that would have eliminated the fourth-biggest wireless carrier in the U.S. and made AT&T the nation's biggest by far. But the arrangement was a risky one that all sides knew would face heavy regulatory scrutiny.
To entice T-Mobile to roll the dice, AT&T (T, Fortune 500) offered a whopping breakup fee: It agreed to pay T-Mobile $3 billion if the deal didn't go through, plus hand over another $1 billion worth of spectrum.
That's exactly what happened. After the Federal Communications Commission and the Department of Justice both moved to block the deal, AT&T withdrew its bid in December. It then turned its spectrum, plus billions in cash, over to T-Mobile parent Deutsche Telekom.
Stephenson swung for the fences -- and missed.
AT&T's compensation committee took that into consideration for his 2011 pay package, AT&T said Tuesday in a regulatory filing. Despite a "strong operational performance," Stephenson's compensation was slashed by "more than $2 million" as a reflection of the heavy toll T-Mobile took on the company's bottom line, AT&T said.
Stephenson still took home a pretty rich package. On top of a base salary of $1.6 million, he received a $3.8 million "incentive award" and stock compensation worth an estimated $12.7 million. AT&T valued his total 2011 compensation at $22 million -- a 20% drop from the $27 million he collected a year earlier.