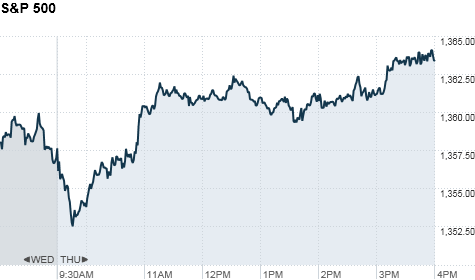 Click chart for more markets data.
NEW YORK (CNNMoney) -- U.S. stocks closed higher Thursday, as investors digested better-than-expected economic news.
A strong report on Germany's economy and a decent reading on U.S. unemployment helped propel all three indexes up for most of the trading day.
The indexes added to their already impressive gains. The Dow is up 6% from the start of the year. The S&P 500 has gained nearly 8%, and the Nasdaq has jumped 13%.
The Dow Jones industrial average (INDU) closed up 46 points, or 0.4%.
IBM (IBM, Fortune 500), Travelers (TRV, Fortune 500) and Disney (DIS, Fortune 500) were among the biggest gainers on the Dow and helped offset losses from Hewlett-Packard (HPQ, Fortune 500). As PC sales swooned, HP's profit fell by a dramatic 44% and sales sank 7% in its latest fiscal quarter, which ended on Jan. 31.
The S&P 500 (SPX) added 6 points, or 0.4%, and the Nasdaq (COMP) composite edged up 24 points, or 0.8%.
While worries about Greece continue to loom in the background, investors were encouraged by a reading on Germany's business conditions that rose for a fourth straight month in February -- the highest level since July, according to the Munich-based Ifo institute.
Meanwhile, the European Commission said Thursday that it expects the eurozone will likely face a mild recession in 2012, thanks to negative growth in Greece, Portugal, Spain and four other countries.
Art Hogan, managing director at Lazard Capital Markets, said markets are 'more resilient' in the face of negative economic data now than in 2011, when stocks had wild 100-point swings on the tiniest negative (or positive) headline.
In the United States, the number of workers filing for unemployment in the United States was 351,000, the Labor Department reported before markets opened. That's slightly better than analysts' forecasts and unchanged from the week prior, which was revised up from 348,000.
U.S. stocks drifted lower Wednesday, amid doubts over the latest bailout for Greece and some negative indicators out of China and Europe.
World markets: Greece secured additional bailout funds earlier this week that will help it avoid default in the immediate term. However, analysts warn that the nation will eventually need more support. Greece's fate also depends on whether private-sector investors agree to a historic debt-reduction plan.
"We know that story's not over, but the ECB has eliminated a Lehman event," Hogan said, referring to the European Central Bank's long-term refinancing operation that has pumped billions of euros worth of 3-year loans into the banking system, helping quell contagion worries.
Following a parliamentary vote Thursday, the Greek government is expected to go ahead as planned and announce its proposal to swap existing debt with new bonds on Friday.
European stocks ended Thursday mixed. Britain's FTSE 100 (UKX) ended up 0.4%, while France's CAC 40 (CAC40) was flat and the DAX (DAX) in Germany lost 0.5%.
Asian markets ended mixed. The Shanghai Composite (SHCOMP) rose 0.3% and Japan's Nikkei (N225) added 0.4%, while the Hang Seng (HSI) in Hong Kong fell 0.8%.
Companies: T-Mobile, owned by Germany's Deutsche Telekom (DT), said "not carrying the iPhone led to a significant increase in contract deactivations in the fourth quarter of 2011." The company lost 526,000 customers during the quarter, compared to adding 126,000 during the third quarter of 2011.
Meanwhile, AT&T's (T, Fortune 500) board cut CEO Randall Stephenson's 2011 pay by $2 million, as a direct response to the failed T-Mobile takeover bid.
Sears Holdings (SHLD, Fortune 500) reported earnings that fell far short of forecasts. Shares of the retailer spiked after the company said it planned to sell of some of its stores in an effort to raise $400 million to $500 million. The retailer -- which also owns Kmart as well as the Kenmore, Craftsman and Lands' End brands -- has been struggling for months.
Target (TGT, Fortune 500) reported better-than-expected fourth-quarter earnings, and said it expects profit growth of 3% to 8% this year.
Apple (AAPL, Fortune 500) holds its shareholder meeting in Cupertino, Calif., on Thursday.
Currencies and commodities: The dollar fell against the euro, the British pound and the Japanese yen.
Oil for April delivery edged up $1.55 to $107.83 a barrel. Oil prices have climbed more than 5% in the last week, and are inflating gas prices too, amid rising nervousness over Iran's nuclear program.
The price of regular unleaded gasoline jumped 3.3 cents overnight to $3.61 a gallon, according to motorist group AAA.
Gold futures for April delivery rose $15 to $1,786.30 an ounce.
Bonds: The price on the benchmark 10-year U.S. Treasury increased slightly, pushing the yield down to 1.995% from 2% late Wednesday.
-- CNN's Elinda Labropoulou contributed from Athens.