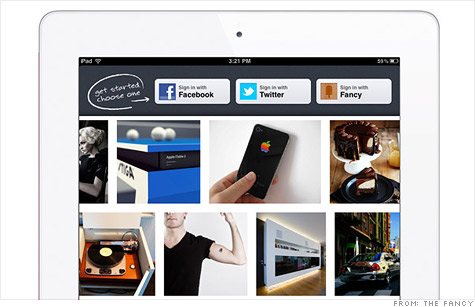 The Fancy wants to convert its design-minded browsers into buyers.
NEW YORK (CNNMoney) -- What do flaming baked Alaska cupcakes, a sci-fi floating hot tub, and a hammock dog bed have in common? They're all items that hundreds of users have "Fancy'd" on a site called The Fancy.
It's an online catalog similar to Pinterest, the latest social media craze, but with one key twist: The Fancy is explicitly designed to make money. It's essentially a personal repository where users can show off the places they'd like to go, foods they'd like to taste, and objects they'd like to own.
"Instead of thinking of us as a self-expression platform, think of us as really laser-focused on a modern commerce model," says founder Joe Einhorn.
On Thursday, New York-based company is launching its e-commerce platform. The new offering lets retailers detect when users have "fancy'd" an item and makes it easy for Fancy browsers to buy the things they spot.
Einhorn casts the platform as "Groupon (GRPN) in reverse." Instead of dangling discounts to lure customers, merchants can zero in on items that have already attracted a following and create custom deals to convert fans into buyers.
"Communities are popping up around products on our site all day now," Einhorn says. "We're now enabling brands and merchants to find your interests and to act on it."
The Fancy has 250,000 registered users and a unique vibe that helps it stand out amid the growing sea of virtual scrapbooking sites. Its community is drawn toward quirky gadgets -- like an iPhone dock in the form of Walter Isaacson's Steve Jobs biography -- and whimsical creations. Artistic prototypes are plentiful. Ever dreamed of a trebuchet toaster, bacon bouquet or coffee ice cubes?
But there's a big obstacle looming for Fancy. What happens when Pinterest -- which has an estimated 10 million active users -- pushes out its own e-commerce system?
Einhorn thinks there's room for several players.
"I would say there's a lot of stuff on Pinterest you wouldn't find on our site," he says. "But hopefully the stuff you do find on our site is really aligned with commerce. We believe our community is tailored to the cooler stuff to buy."
The company has some powerful -- pardon us, fancy -- backers behind it.
Its board includes Twitter co-founder Jack Dorsey and Facebook co-founder Chris Hughes, and it has collected $18 million from investors including Marc Andreessen, Ben Horowitz, Ashton Kutcher and PPR, the parent company of high-end fashion lines like Gucci and Alexander McQueen.
PPR CEO François-Henri Pinault, who joined the board after investing $10 million in the company, calls the platform "the next big wave in online commerce."
Celebrities like Kanye West have been buzzing about the service, and top designers are using it to curate inspirational product spreads. Active users include rapper P Diddy and Blink 182 lead singer Mark Hoppus. Kutcher has "fancy'd" more than 100 items -- everything from Nike Shoeshine Snowboarding boots to a giant rubber ducky installation.
Einhorn has big ambitions. He says the rise of "social commerce" is a new wave that could eventually rival Amazon (AMZN, Fortune 500) in its scale. Social discovery is the key: You too can have the rubber ducky that captured Ashton's heart.
"As a consumer, I'm finding out about the coolest stuff through people instead of at the big stores," he says. "We want to take the passion or excitement you're getting from services like Tumblr, but we want to link it to the transaction."