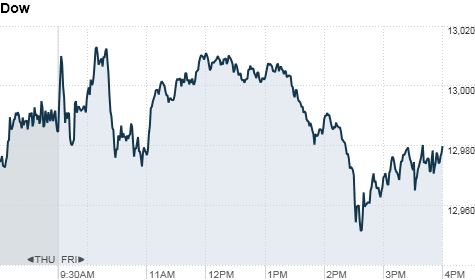 Click for more market data.
NEW YORK (CNNMoney) -- U.S. stocks ended mixed Friday, with the Dow and S&P holding near their highest levels since 2008, as investors digested reports on consumer sentiment and home sales.
After climbing above 13,000 earlier in the day, the Dow Jones industrial average (INDU) eased 4 points, or less than 0.1%, to end at 12,983. The Dow last closed above 13,000 in January 2008.
While the Dow at 13,000 is not technically significant, it is a psychological milestone, said Ryan Detrick, senior technical strategist at Schaeffer's Investment Research. Since the start of February, the Dow has been trading at its highest level in nearly four years.
Meanwhile, the S&P 500 (SPX) edged up 2 points, or 0.2%, to 1,366. Earlier, the index rose to 1,369, the highest point since June 2008.
The Nasdaq composite (COMP), which gained 7 points, or 0.2%, has also been at its highest level since December 2000.
For the week, all three indexes posted gains of less than 0.5%.
In the oil market, crude futures rose above $109 a barrel amid concerns about increased tensions between Iran and Western powers.
The recent rise in oil prices has translated into higher gas prices, with the national average climbing 12 cents this week.
U.S. stocks closed higher Thursday, despite looming worries about the Greek debt crisis, boosted by a strong report on Germany's economy and a decent reading on U.S. unemployment.
Economy: While a reading on consumer confidence came in better than expected, investors' enthusiasm was a bit dampened by a decline in new-home sales -- another sign that the housing market remains troubled.
The University of Michigan Consumer Sentiment Index for February rose to 75.3, topping expectations of 73.
"Confidence has been slowly but surely coming back, and you're seeing a reflection of that in the equity markets," Detrick said. "Just four month ago, people were talking about the chances for a double-dip recession, but that's clearly not the case anymore."
While the housing market continues to recover at a "two steps forward, one step back" pace, it's also headed in the right direction, said Detrick.
Companies: J.C. Penney (JCP, Fortune 500) shares slipped after the department store chain beat earnings estimates, but fell short of sales expectations for the fourth quarter.
Shares of AIG (AIG, Fortune 500) jumped after the company said late Thursday that its fourth-quarter profit surged to $19.8 billion, thanks to an accounting change.
Salesforce.com's (CRM) stock also popped after the company topped earnings and sales expectations late Thursday, as customer billings surged 57% during the quarter -- a sign of robust future sales growth.
Gap's (GPS, Fortune 500) stock fell after the retailer missed earnings and sales expectations for the fourth quarter. Gap also announced a $1 billion share buyback program and an 11% boost to its annual dividend.
Shares of Crocs (CROX) tumbled after the shoemaker issued a downbeat outlook for the first quarter of 2012.
Citigroup (C, Fortune 500) sold its stake in Mumbai-based Housing Development Finance Corporation. Citigroup said the sale should result in a pre-tax gain of $1.1 billion, and an after-tax gain of approximately $722 million.
Bank of America (BAC, Fortune 500) announced plans late Thursday to freeze pension plans, effective in July, and increase its 401(k) contributions instead.
World markets: European stocks closed mixed. Britain's FTSE 100 (UKX) edged slightly lower, while the DAX (DAX) in Germany rose 0.8% and France's CAC 40 (CAC40) added 0.6%.
Asian markets ended with solid gains. The Shanghai Composite (SHCOMP) closed up 1.3%, the Hang Seng (HSI) in Hong Kong rose 0.1% and Japan's Nikkei (N225) gained 0.5%.
Currencies and commodities: The dollar fell against the euro and the British pound, but rose versus the Japanese yen.
Oil for April delivery rose $1.94 to settle at $109.77 a barrel. Oil last traded above this price on May 3, 2008.
The price of regular unleaded gasoline jumped 3.5 cents overnight to $3.647 a gallon, according to motorist group AAA.
Gold futures for April delivery fell $9.90 to end at $1,776.40 an ounce.
Bonds: The price on the benchmark 10-year U.S. Treasury rose slightly, with the yield holding steady around 1.98%.