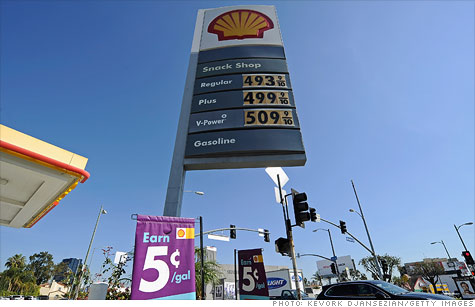 Changing gas prices is becoming a daily occurrence, with the national average approaching $3.70 a gallon.
NEW YORK (CNNMoney) -- Gas prices continued their march toward $4 on Monday, rising for the 20th day in a row.
The nationwide average rose to $3.70 a gallon, up one cent from a day earlier, according to the motorist group AAA.
Only a month ago, the nationwide average was $3.41 a gallon.
Average prices for regular gasoline are more than $4 a gallon in California, Alaska and Hawaii. Gas prices are just shy of the $4 mark in New York, Connecticut, and Washington, D.C., according to AAA. The lowest average gas prices are in Wyoming and Colorado, where a gallon is going for less than $3.20.
Gas prices have been rising on the back of soaring oil prices, which have surged 10% over the past month amid fears that tensions with Iran will lead to an all-out war that causes a disruption in oil supplies.
Signs of an improving economy have also been boosting oil prices, along with the stock market, which has seen the S&P 500 (SPX) rise by more than 8% in 2012.
With gas prices soaring, politicians have been touting their plans to lower prices at the pump.
Newt Gingrich, struggling to regain momentum in the Republican presidential primary, is leading the way -- promising to get prices down to $2.50 per gallon.