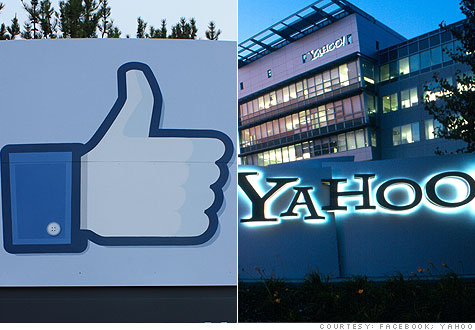 Yahoo is accusing Facebook of patent infringement.
NEW YORK (CNNMoney) -- Facebook shot back at Yahoo Tuesday in the wake of Yahoo's patent battle against the social media company.
Yahoo (YHOO, Fortune 500) is trying to force Facebook into licensing 10 to 20 patents on various technologies involving advertising, messaging and social networking, according to media reports which have been confirmed by a source close to Yahoo.
"Yahoo contacted us at the same time they called The New York Times and so we haven't had the opportunity to fully evaluate their claims," said Facebook spokesman Andrew Noyes, in a prepared statement to CNNMoney.
A look at Yahoo's most recent quarterly earnings present a mixed picture that doesn't necessarily match with the image of a company on the brink of death. Yahoo posted a $296 million profit for the fourth quarter of 2011, up 5% from a year earlier and matching analysts' expectations.
But quarterly sales of $1.3 billion were down 13% from 2010.
Yahoo has a new chief executive officer, Scott Thompson, who was anointed in January. He was previously the president of PayPal, which is part of EBay (EBAY, Fortune 500).
Earlier this month, Facebook filed for a $5 billion initial public offering.
Correction: An earlier version of this story incorrectly contained information that was not intended for publication.