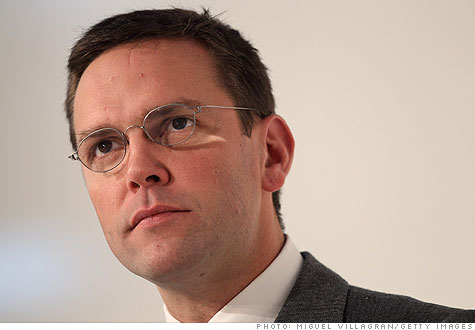 News Corp.'s James Murdoch.
NEW YORK (CNNMoney) -- James Murdoch is giving up leadership of News Corp.'s scandal-plagued U.K. newspaper publishing business.
The son of company chairman and CEO Rupert Murdoch, James Murdoch had been executive chairman of News International, the publishing unit of News Corp. that has been most directly affected by a phone-hacking scandal since last summer.
He gives up that title and will relocate to the company's New York headquarters, keeping his corporate title as deputy chief operating officer. The company said he will now focus on its pay television businesses and broader international operations.
Tom Mockridge, CEO of News International, will retain that title and report to News Corp. President and Chief Operating Officer Chase Carey.
Shares of News Corp. (NWS) were up 2% in morning trading following the announcement.
Laura Martin, an analyst at Needham & Co. who follows News Corp., said the stock's rise is due to investor hopes that the company might finally get out of the print business. The company's publishing unit, which includes both newspapers and books, accounted for only 11% of company earnings in the first half of its current fiscal year.
"Investors don't like the newspaper business," Martin said. "This increases the chances he [Rupert Murdoch] sells, shuts down or otherwise gets out of their least favorite business."
But Rupert Murdoch has been much more committed to newspapers than most other media executives. This past Sunday, the company debuted a new Sunday edition of the British tabloid The Sun, which had previously been published six days a week.
Mike Mannor, professor at Notre Dame's business school, said James Murdoch's move doesn't necessarily mean that his father is any less committed to print. In fact, it could be taken as sign that Rupert Murdoch is asserting even more control, despite being less than two weeks away from his 81st birthday.
"The fact that he is marginalizing his own son, I think, is definitely an indication his hold on the company is as strong or stronger than ever," said Mannor. "His commitment to print is so strong, he's going to make sure that is not ruined by the next person. He'll continue to haunt News Corp. long after he's gone."
However, both Mannor and Martin believe Wednesday's announcement makes it less likely James Murdoch will succeed his father as chairman and CEO.
They both see Chase Carey, who is well respected on Wall Street, as the front runner in the succession race, although James's brother Lachlan Murdoch, a member of the News Corp. board of directors, could also enter the mix.
Ongoing hacking scandal
The U.K. publishing arm of News Corp. (NWS) came under attack in the last year due to revelations that its reporters illegally listened to voice mails of celebrities and other news subjects.
Both James and Rupert Murdoch have been called to testify about the scandal before the British Parliament.
In September, James Murdoch declined to take a $6 million bonus he had been set to receive for the company's last fiscal year, stating, "While the financial and operating performance metrics on which the bonus decision was based are not associated with this matter, I feel that declining the bonus is the right thing to do."
Rupert Murdoch did take a $12.5 bonus as part of his $33.3 million compensation package.
Also in September. James Murdoch resigned from the boards of a pair of companies that publish News Corp.'s U.K. newspapers: News Group Newspapers, which publishes The Sun, and Times Newspapers Ltd, which publishes The Times of London. The company also shut one of its tabloids, News of the World, due to the scandal, and was forced to drop plans to buy the remainder of satellite TV company British Sky Broadcasting.